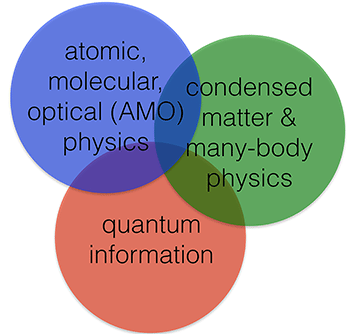 Differences between typical AMO and condensed matter systems bring with them exciting new physics. In contrast to condensed matter systems, AMO systems are often studied far out of equilibrium, are evolving in time, and are subject to dissipation. As a result, many-body AMO systems open a whole new world to understand, classify, and harness. One specific goal in this research direction is to extend methods available in condensed matter physics to these new types of systems.
Entanglement is a new tool that quantum information has recently given to the condensed matter community to study and even define phases of matter. At the same time, AMO experimentalists are very good at measuring and characterizing entanglement in AMO systems. Therefore, AMO systems will likely play a key role in studying entanglement in many-body systems. Thus we try to guide our research in the direction of understanding and measuring entanglement in many-body AMO systems.
Our theoretical research is always guided by and done in close collaboration with experimental groups. In fact, the true excitement often comes from experiments. Experiments also often bring new unexpected challenges whose solution often lies at the heart of our research.
More information about the Gorshkov Group: