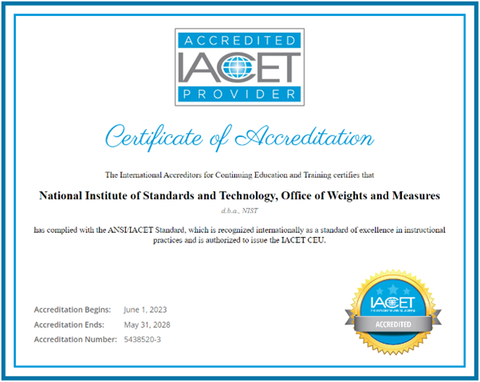 NIST OWM was initially IACET accredited in 2013, with an initial demonstration that OWM had the capability and organizational structure to provide quality continuing education to be an Accredited Provider. Upon review for reaccreditation, the OWM training program undergoes an extensive audit process that carefully examines of its capabilities, accountability, and continuous quality improvement. This recent renewal/reaccreditation period was completed this past May 2023 and extends the OWM training program for an additional five years (through May 2028). See the NIST's profile on the IACET Accredited Provider list here.
OWM provides two categories of Learning Events that are developed and taught: Level 1 events comply with the requirements which are approved by IACET and approved to issue CEUs, and Level 2 for all other Learning Events that do not issue CEUs. Certificates of "Successful Completion" are Level 1; Certificates of "Attendance" and "Participation" are Level 2. The 5-year reaccreditation period (through May 2028) will include all Level 1 Events offered or created during that time.
OWM continues to analyze weights and measures training needs, obtains input from the weights and measures community, designs and delivers training for laboratory metrologists and weights and measures officials, measures the impact and effectiveness of training to ensure ongoing continual improvement, and consults with the weights and measures community to ensure ongoing professional development. Many states require that their weights and measures officials receive training throughout their careers. Utilizing the OWM IACET accredited training program gives those officials confidence that the training they will receive is of high quality.
While any organization can host a learning event, I believe, it takes true commitment to become an IACET accredited provider of Continuing Education Units (CEUs). In addition, the successful outcome of this accreditation process and audit is a testimony of our commitment, hard work, and dedication to the excellence of continuing education and training program of OWM.
"Thank you for your commitment to excellence," said Karen LaMarsh, Chief Accreditation Officer of IACET. "We are proud to have the National Institute of Standards Technology, Office of Weights and Measures as an IACET Accredited Provider!"
OWM looks forward to the providing this IACET accredited training to the weights and measures community over the next 5 years, and beyond!