Our approach is to fracture glass samples under controlled conditions in order to elucidate fracture mechanisms. Specimen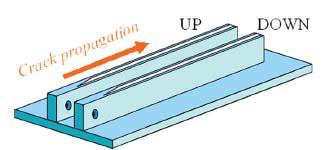 geometries with well-defined fracture mechanics behavior are used to propagate cracks at controlled velocities ranging from 10-11 m s-1 to 102 m s-1. Fracture surfaces are then examined by atomic force microscopy (AFM). By comparing opposing areas on a given fracture surface, we can evaluate many aspects of the fracture process and crack growth: cavity formation at crack tips; sharpness of cracks that form; rate of corrosion of fracture surfaces nanometers away from arrested crack tips; and nature of the residue left on the fracture surface as a consequence of corrosion.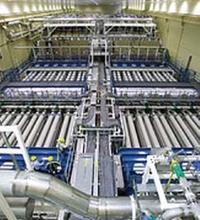 Impact and Customers:
Worldwide, more than $100B of glass is made every year as flat glass, fiber glass, container glass, and specialty glass. Glasses fail by subcritical crack growth (fatigue) from small pre-existing defects, so measurement methods are needed to evaluate crack growth processes.
Prior NIST work on the reliability of glass was used in the design of glass for the National Ignition Facility, a $4B project at Lawrence Livermore National Laboratory.
Prior NIST work on proof-testing was used to assure glass fiber reliability for communication applications and glass window reliability in spacecraft and aircraft.
New applications requiring methods to assess crack growth and its effect on reliability include glass seals in fuel cells and silica glass coatings on electronic components.