Infrared emission imaging and FTIR reflection spectroscopy is applied as a means to monitor thin-film hydrogenation reactions in temperature-controlled high pressure reaction chambers. Candidate alloyed and doped thin metallic films (<500 nm) are grown in-house on epi-alumina or silicon substrates and placed in these chambers to monitor adsorption/desorption kinetics or identify hydrogen-containing metallic species as a function of time. Specifically, wedged-shaped films permit detailed monitoring of reaction front migration along the film and this allows extraction of reaction rates, cycling hysteresis and underlying enthalpies of reaction (see Figure). Studies of the same samples under reflection FTIR conditions help identify creation of newly hydrogenated species within the metallic films.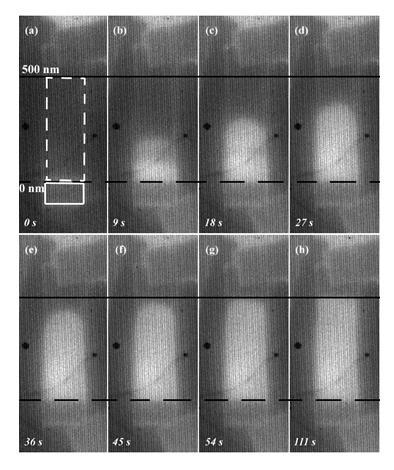 Individual frames from time-resolved IR emission measurements for a Mg-4Fe 4 atomic % film hydrogenated at 0.1 MPa and 383 K. The boxed area at the bottom is a control for a 10 nm Pd overlayer on the alumina substrate. The time on each image denotes the elapsed hydrogenation time reaching the film end and reaction completion in 111 seconds.
Studies of lightly doped iron in magnesium (4 at. % Fe:Mg) have shown that these films adsorb up to 7 wt% hydrogen with reaction front mobility of ca. 37 nm/s at 423 K (150 C). Hysteresis for three adsorption/desorption cycles was found to be minimal after the first cycle (see below). These results suggest that properly grown Mg-Fe powders of 1-2 micron size can be fully charged with hydrogen within 1 min at temperatures near 150 C (423 K) enabling practical hydrogen storage applications.
Additional Technical Details:
Please see: http://www.nist.gov/mml/msed/thin_film_nanostructure/hydrogen-storage.cfm for a more detailed explanation of employed methods and measurements conducted with MML.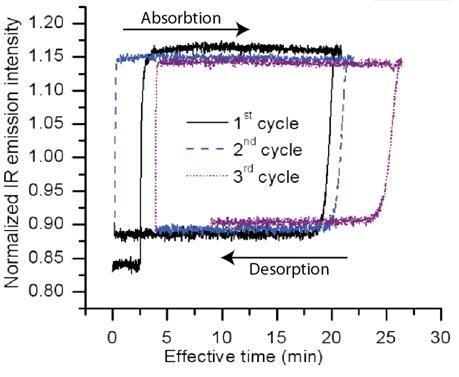 IR emission intensity hysteresis of hydrogen absorption under 0.1 MPa hydrogen pressure and desorption under dynamic vacuum of a wedge Mg-4Fe at.% film at 403 K. The IR emission intensity increases/decreases when hydrogen is absorbed/desorbed.