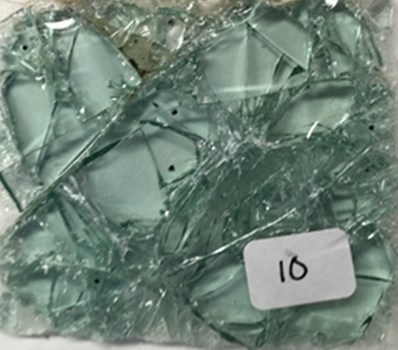 Quantitative XRF Glass Database
Recent research efforts in the forensic trace field have focused on the development of databases to assign a significance to forensic evidence (i.e., to report the strength of an association or exclusion). In the forensic analysis of glass using µ-XRF, samples are typically compared using element intensity ratios. However, because of differences in instrumentation, the development of a database compiled with element ratios collected by different laboratories is not currently feasible. The collection of quantitative XRF data will address this limitation. Thus, this project focuses on the development of a quantitative XRF glass database that can be used by forensic practitioners to assign a significance to forensic glass evidence.
Glass Standards
The forensic community uses several glass standards and reference materials from NIST and abroad that are currently low in stock.  Additionally, the community relies on published consensus values or on certified values that were collected more than 20 years ago and at sampling scales that are not relevant to the forensic community.  This project aims to address these gaps by (1) reanalyzing elemental concentration (at trace and bulk sampling scales) for several commonly used glass SRMs with modern instrumentation and methods (i.e., LA-ICP-MS), and (2) collaborating with Dr. Almirall's group at Florida International University to aid in the design and assessment of three new reference glasses.  
Interpretation of Glass Evidence
Although the forensic community has reached a consensus on the analysis of glass evidence using LA-ICP-MS, there is currently no standardized method for the interpretation of glass evidence. Recent efforts in the community have focused on the use of databases to provide a significance to glass evidence using more objective approaches (e.g., likelihood ratio). This collaborative project, organized by Dr. Almirall's group at Florida International University, involves an inter-laboratory study, designed as a mock forensic case, that aims to evaluate the performance of the likelihood ratio for the interpretation of glass evidence.