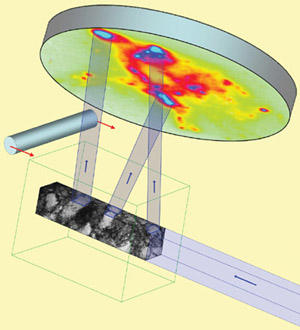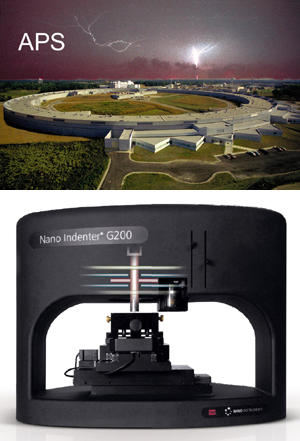 • We have provided general users from industry, academia and national laboratories with a completely new class of X-ray imaging techniques for materials studies (ultra-small-angle X-ray scattering imaging), that we developed from basic concept to DOE-supported operations at the Advanced Photon Source (APS).
• General users at the APS will benefit from a new robust measurement capability for measuring elastic strains, defects and crystallographic orientations from buried nanoscale sample volumes within nanostructured materials and devices.
• NIST is working hard to provide nanoscale researchers and engineers with a nN-level force standard. Quantum-level simulations of gold nano-wire deformation have confirmed that this system is suitable for an intrinsic force standard.
• All users of nanoindentation will benefit from critical, quantitative evaluations of the method's sensitivity to unavoidable variations in indenter tip shapes and sample roughness.
Approach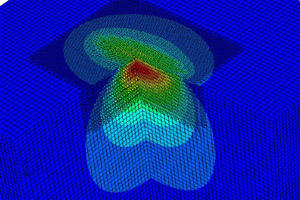 The mechanical behavior of device materials during processing, assembly, use and failure is a critical factor for nearly all industrial products. This behavior is generally determined by complex nanoscale processes such as the evolution of local stress concentrations, defect propagation, local slip, and delamination. Targeted quantitative measurement and modeling techniques are critical for making new products affordable and reliable. 
Topic areas include: 1) using quantitative, experimentally validated computer simulations to evaluate nanoindentation and nanowire failure, and 2) developing and using new spatially resolved synchrotron X-ray diffraction and small-angle scattering measurement techniques for probing elastic strains, defect structures, crystallographic orientations and densities at the nanoscale within nanostructured materials and devices.
For example, USAXS imaging is now being used at the APS for studying subjects as diverse as the self-assembly of conductive-nanowire networks and the distribution of second-phase particles in artificial rubber materials.