In the beam technique, the lifetime is measured by counting the absolute number of protons within a fiducial volume while continuously monitoring the absolute neutron flux. We completed the first experiment in 2003, and the uncertainty in the result was dominated by systematic effects associated with the neutron counting. Since that time, the group has successfully refined the ability to measure absolute neutron fluence at the level of 0.06%, and with this improvement, neutron counting is no longer the limiting systematic effect. In 2013 we published an updated value of (887.7 +/- 2.2) s using the new neutron counting results. We are now working on a new iteration of the experiment to measure the lifetime with a focus on testing and accounting for possible systematic effects.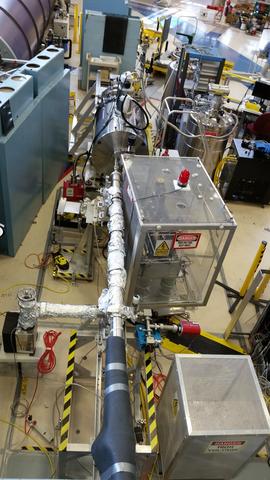 The general approach to determining the neutron lifetime from a beam of cold neutrons is the same as that employed in the previous measurement. Figure 1 illustrates the method. A beam of cold neutrons enters a segmented proton trap (shown in Figure 2). If a neutron decays, the proton is confined by a 4.6 T magnetic field and electrostatic potentials on both ends of the trap. Periodically, the upstream electrodes (referred to as the door) are lowered, and a ramp voltage is applied to the central electrodes to eject any proton from the trap. The proton follows the magnetic field line out of the direct beam and onto a silicon detector held at a high potential to accelerate and detect the proton. While that process repeats itself, the downstream neutron flux monitor continuously monitors the neutron beam.
The lifetime experiment is currently mounted and running on the NG-C beamline, as shown in Figure 3. Apparatus upgrades and extensive offline testing has led to significantly improved apparatus stability and has opened up a much wider range of parameter space for systematics testing than was available in the previous measurement. The experiment is acquiring production data and working through many of the systematic checks. Operations and data analysis are ongoing.