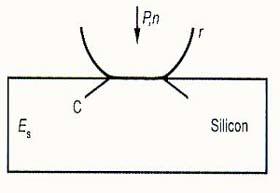 It has long been thought that bulk silicon is immune to fatigue. We present contrary evidence by demonstrating severe fatigue in macroscale specimens. Cracks are produced during cyclic loading of monocrystalline silicon plates with a 3 mm radius sphere indenter mounted onto a universal testing machine. Deformation and fracture accumulation is observed over 1 million cycles at 10 Hz. Field emission scanning electron microscopy (FESEM) is used to examine the surface morphology of the indented plates, and thus to ascertain the extent of fatigue damage. Atomic force microscopy (AFM) and Raman imaging are used to examine fine detail in the surface profilometry and the existence of any phase transformations in the contact zone. Sample preparation by focused ion beam (FIB) milling provides a means for obtaining sections through the contact damage zones to obtain subsurface views. A flexural testing protocol is used to determine the strength of indented silicon. By testing in air and other environments, we can investigate the potential role of environmental species on strength degradation.

Impact and Customers:
Silicon is the material of choice in the semiconductor and MEMS industries, with a worldwide market of over a hundred billion dollars. It is extremely important to understand how silicon device reliability is effected by fatigue due to cyclic loading.

MEMS and other small-scale devices is part of the national nanotechnology strategy. Understanding fatigue mechanisms is critical for optimal materials design of MEMS devices.