Summary
The construction of a new primary calibration facility for air kerma measurements has been completed. It delivers a collimated 137Cs gamma-ray beam in which radiation detection instruments can be exposed to well-known air-kerma values.
Description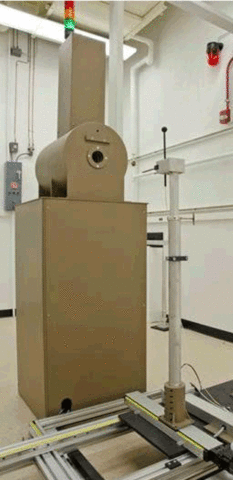 The new facility was built from the ground up, starting with an empty room, based on original design specifications developed by the Dosimetry Group at NIST. It is divided into two areas (control and irradiation) that are isolated from each other. The irradiation area contains a new 137Cs gamma-beam irradiator and a linear positioning system. The linear positioning system can be operated manually and also remotely to place radiation measuring instrumentation at a fixed distance from the source. The control area is equipped with a control unit and all safety and interlock systems, allowing safe operation of the irradiator. The original NIST design of the various components of the safety system not only performs successfully, but exceeds Nuclear Regulatory Commission (NRC) requirements.
Notice of Online Archive: This project has ended and thus this page is no longer being updated and remains online for informational and historical purposes only. The information is accurate as of 2012. For questions about page contents, please contact Ronaldo Minniti.