NEW ENABLING TECHNOLOGY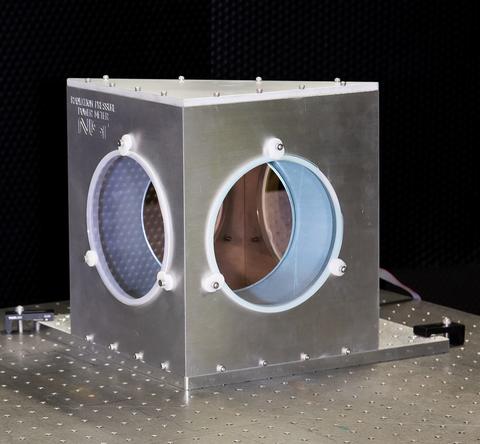 NIST scientists have devised a radically new method of determining laser power by measuring the radiation pressure exerted by a laser beam on a reflective surface.
High-accuracy power measurements are essential to many manufacturing processes that depend on precise control of laser output. Conventional techniques for gauging laser power involve aiming the beam into an apparatus that absorbs all the beam's energy as heat. The change in temperature is a measure of power. 
But this method requires the laser to be taken out of service during calibration, preventing precision measurement of the laser's power while it is in use, leading to potential inconsistencies. Without this information, some manufacturers may have to spend more time and money assessing whether their parts meet manufacturing specifications after production. Moreover, instruments that can support high-power measurements are large and require significant operating infrastructure. 
Power measurements while lasers are at work on the factory floor
By contrast, the compact NIST Radiation Pressure Power Meter (RPPM) gauges the power of a laser beam by measuring how much the beam's radiation pressure displaces a mirrored surface: The greater the displacement, the larger the beam force and thus the higher the power. Because the beam is reflected, not absorbed, it proceeds to its application on a production line as measurements are made.
Wide power range, easily integrated into manufacturing operations.