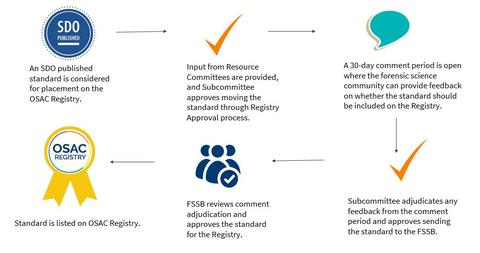 OSAC's legacy Registry approval process is used to review existing, SDO published standards for technical quality and placement on the Registry. This process applies to published standards that were previously drafted within OSAC and submitted to an SDO before October 1, 2020.
If a subcommittee approves moving an SDO published standard through the legacy Registry approval process it will first be evaluated by forensic science practitioners, academic researchers, statisticians, and legal representatives on the subcommittee to assess its technical merit.
Once this assessment is complete and the standard is determined to be technically sound, OSAC will open a comment period to solicit feedback from forensic science stakeholders on whether it should be included on the Registry as a published standard.
After the comment period closes, the subcommittee will address any feedback received from the community.
Next, the Forensic Science Standards Board (FSSB) will review the standard and the adjudicated comments and vote to approve the standard for placement on the Registry.
Finally, the standard is listed on the Registry and any public comments received from the open comment period are shared.
OSAC subcommittees looking to start the legacy Registry process should complete and submit the following documents found on our internal site:
OSAC Technical Merit Form (QIC Form-01)
OSAC Registry Request Form (QIC Form-03)
the standard under consideration