Why is Standards Implementation Important?
From the crime scene to the courtroom, having valid and reliable forensic science is essential. Standards help to enhance the validity and reliability of results – but they are only beneficial if they are used. OSAC encourages forensic science service providers to implement the standards on the OSAC Registry into their everyday practice.
Implementation of standards can help to improve consistency within and across forensic science disciplines, ensure confidence in the accuracy, reliability, and reproducibility of results, and positively impact admissibility and expert testimony in courts of law. 
Putting Standards Implementation into Action
Standards implementation is not a one-size-fits-all approach. Each forensic science service provider (FSSP) and discipline will have unique needs and approaches. FSSPs should implement the standards (or portions of standards) that work best for their situation.
Whether an FSSP is new to standards implementation, or has already put it into action, here are some tips to help. Learn more about each of these by clicking on the headings below.
PREPARE/LEARN: Enlist support from management and get familiar with the OSAC Registry and the standards that are applicable to your organization.
PLAN: Determine which standards are applicable to your organization, along with the requirements you may already be following. Enlist the help of other FSSPs and mentors for technical guidance on implementation.
IMPLEMENT: Document your implementation status and let OSAC know about your accomplishments by completing OSAC's Registry Implementation Declaration Form.
MANAGE/MAINTAIN: Continue to monitor the OSAC Registry for new standards and share updates with on your organization's implementation status.
Support for Standards Implementation
OSAC does not have the authority to enforce standards. Therefore, we rely on forensic science service providers to self-adopt standards and best practices. Fortunately, the forensic science community strongly supports standards development. For example, seven professional forensic science organizations, represented on OSAC's FSSB, have issued public statements of support for OSAC and standards implementation.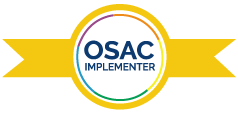 Additionally, over 140 forensic science service providers (FSSPs) across the U.S. have self-declared their use of standards on the OSAC Registry. These OSAC Registry Implementers include: 
80 state laboratory locations (18 states)
46 local/county/city FSSPs
5 federal FSSPs
8 private FSSPs
4 universities
4 international FSSPs
Implementation Tools & Resources