The OSAC Registry Approval Process for Published Standards is used to review existing, SDO published standards for technical quality and placement on the Registry (i.e., the technical review of a standard is done after it has been published by an SDO). This legacy process applies to standards that were drafted within OSAC and submitted to an SDO before OSAC's structure and process changes, effective October 1, 2020.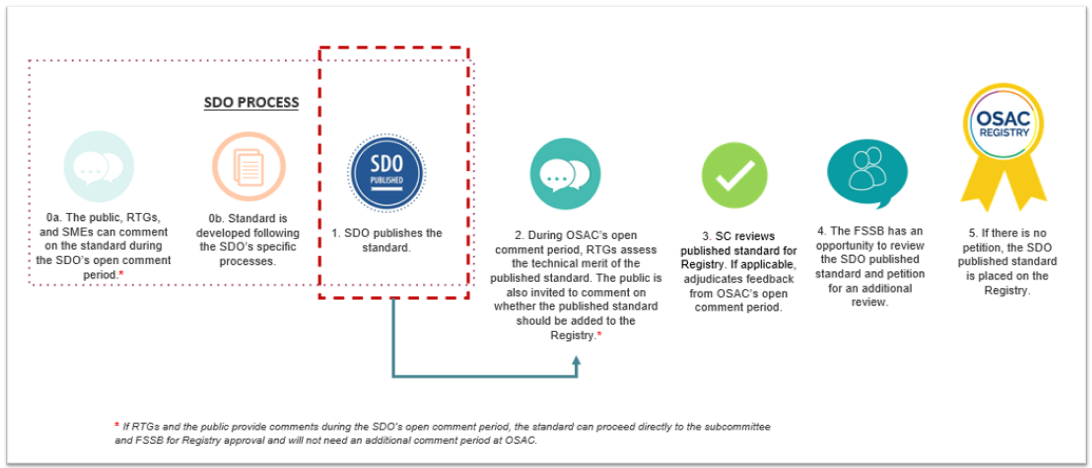 This process starts with an SDO published standard (indicated by the red box).
OSAC will open a 30-day comment period where the Forensic Science Standards Board's (FSSB) Resource Task Groups (RTGs) will review and assess the quality and technical merit of the published standard. Also during this time, the public is invited to comment on whether the published standard should be added to the Registry.

Note: The public will have had an opportunity to provide feedback on the standard during its development process through the SDO's public comment period (see step 0a). This allows comments to be submitted during the SDO development process, before publication, enabling upgrades to be directly incorporated into the standard rather than receiving comments after it is published. In January 2022, the FSSB approved that the requirement for an OSAC open comment period (i.e., this step 2) can be met during the SDO's public comment period. In cases where OSAC can document the SDO's public comment opportunity, OSAC will not execute its own comment period.  

After the 30-day comment period closes, the subcommittee will formally adjudicate the comments from OSAC's open comment period, if applicable, and vote to move the standard forward.
The FSSB is provided with the SDO published standard and the adjudicated comments, and they are given an opportunity to review this information and petition adding the published standard to the Registry. If a petition for additional review is granted, then the FSSB will discuss the standard and vote whether to place it on the Registry.
If there is no petition for additional FSSB review, then the SDO published standard is listed on the Registry. Any public comments received from the open comment period, along with their adjudication, are shared.