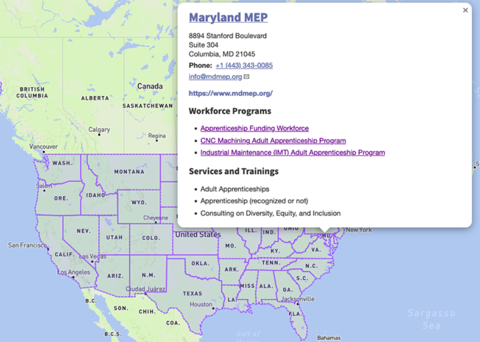 GAITHERSBURG, Md. — The Hollings Manufacturing Extension Partnership (MEP), a program of the U.S. Department of Commerce's National Institute of Standards and Technology (NIST), has published a new interactive map to help manufacturers find workforce-related programs and services offered by MEP Centers in every state and Puerto Rico.
The MEP National Network™ supports manufacturers through a wide range of workforce development programs and resources, helping them deal with talent shortages and skills gaps. The new interactive map, MEP National Network Workforce Programs, Services and Trainings, showcases these efforts across the country. This map complements the recently published list detailing ways that Centers are helping manufacturers overcome workforce challenges.
MEP National Network experts understand the importance of remaining competitive in today's rapidly evolving marketplace, and can provide manufacturers with a solid foundation for growth through the workforce services they offer. By investing in workforce development and training, manufacturers can address their workforce challenges head-on.
Narrowing the workforce gap is one of the MEP National Network 2023-2027 Strategic Plan's [opens PDF] primary goals. The plan calls for enabling small and medium-sized manufacturers to navigate the current workforce shortage while improving productivity and profitability.
The new interactive map showcases MEP workforce activities across the country, enabling manufacturers, and the public, to learn more about what each MEP Center does. This information is not exhaustive, and local MEP Centers can provide more detailed information about their unique workforce-related offerings.