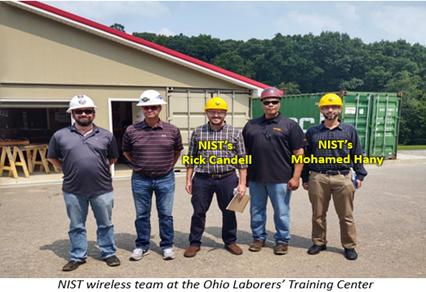 NIST's Rick Candell and Mohamed Hany met with representatives from the Ohio Laborers' Training Center (OLTC), serving the Ohio Valley Southern States Region (OVSSR), to discuss opportunities for collaborating on the safe and effective use of wireless technology in the construction industry. Projects of interest include construction of buildings, highways, railroads, tunnels, and manufacturing centers, such as the new Intel chip manufacturing factory in Ohio.
Wireless is important to the construction industry, as it is the primary mode of communications for organizing work and personnel, dispatching machinery, environmental monitoring, remote machine control, and safety assurance within a highly complex, rapidly changing construction site. During the day-long meeting, OLTC representatives provided a tour of their training and research facility and then demonstrated how a welding activity could disrupt wireless communications, causing a non-recoverable halt to a demolition robot. Such failures can lead to safety hazards in construction. Other demonstrations and discussions addressed reliable situational awareness, remote control of a large machine utilizing streaming video, remote command and control, and communications in tunnels.
Both entities have the potential to advance industrial wireless. The OLTC is equipped for reproducing operational construction scenarios. NIST can provide controlled reproduction of RF conditions and expertise in industrial wireless communications test and measurement. NIST's Rick Candell leads the IEEE P3388 test standardization effort for industrial wireless systems. OVSSR is tied into the ASTM F45.04 standardization effort which is evaluating the performance of mobile robotic manipulators and specifying communications degradations. A partnership between the two standards groups would allow the IEEE working group to focus on the communications aspects of such cyber-physical systems, with ASTM focusing on the operational aspects.