In Search and Rescue (SAR) operations involving indoor spaces, such as partially collapsed buildings, the safety of first responders is paramount. These indoor environments pose unique challenges to first responders, including limited lighting and the absence of GPS signals. Scientists from the National Institute of Standards and Technology (NIST) Public Safety Communications Research (PSCR) division are actively investigating ways to enhance first responders' capabilities in SAR scenarios by harnessing the latest advancements in uncrewed aircraft system (UAS) technology, commonly referred to as drones. These open research efforts are being explored by the NIST PSCR UAS Portfolio, which evaluates gap areas in current technology for public safety communications and offers financial awards and incentives to diverse academic and industry teams who develop innovative solutions to address those gaps.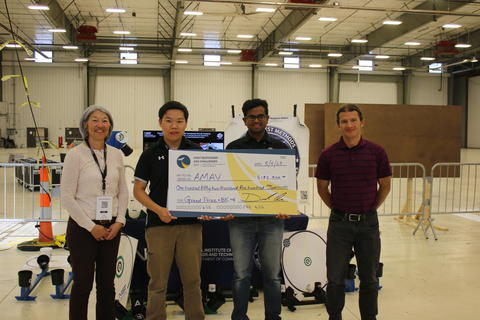 From April 27, 2022, to May 4, 2023, the First Responder UAS Indoor Challenge (UAS 4.0) was the sixth of the Open Innovation's series of UAS prize challenges and awarded a total of $685,000 in prize money to participants throughout the three stage challenge. Learn more about the UAS 4.0 stage winners and their solutions here. The primary aim of UAS 4.0 was to improve UAS using video technology to effectively navigate an indoor environment and provide visibility and situational awareness to the Incident Commander prior to the entry of responders. UAS 4.0 participants had to consider the requisite functionalities that align with first responder requirements in order to create a UAS prototype which accurately deciphered critical information, detected signs of life, and identified potential hazards within the indoor environment. These prototypes may soon be products that can enhance the situational awareness of first responders, enabling them to proactively anticipate obstacles leading to improved communications and ultimately, to save lives.
The UAS 4.0 challenge required participants to design, build, and operate UAS prototypes that were easy to control, highly durable, and equipped with advanced sensors capable of functioning without GPS. Of the nine UAS prototypes that met or exceeded the minimum requirements during the live indoor flight tests, seven effectively operated in the simulated constrained environment, navigating debris and obstructions while locating and identifying targets. Although two prototypes faced complications related to command and control, all nine solutions demonstrated real-time situational awareness, autonomous capabilities, and optional features such as thermal imaging, night vision, and two-way audio.
These UAS solutions not only demonstrated great promise individually, but they also played a pivotal role in establishing a robust framework for live indoor testing and evaluation that can be replicated in future research endeavors. The data and insights yielded by UAS 4.0 hold the potential to propel UAS technology forward, delivering significant benefits to public safety initiatives, researchers, and the industry at large.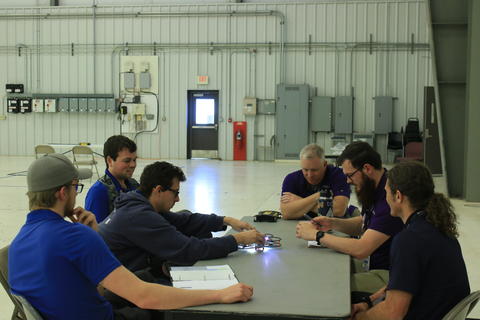 UAS 5.0 First Responder 3D Mapping Challenge
Learn more about PSCR's current prize challenge, First Responder 3D Mapping Challenge (UAS 5.0), which builds off the momentum from the UAS 4.0 challenge. The primary objective of UAS 5.0 is for participants to create an affordable UAS solution that meets public safety budgets while providing accurate positioning and high-quality 3D digital mapping in real time. It is also intended to bring awareness to current UAS national security requirements considered by public safety agencies. With total prize awards of up to $987,500, UAS 5.0 launched April 18, 2023, and offers a walk-on stage which accepts new submissions starting October 16, 2023. For details to enter during this mid-competition phase, please explore the UAS 5.0 challenge website.