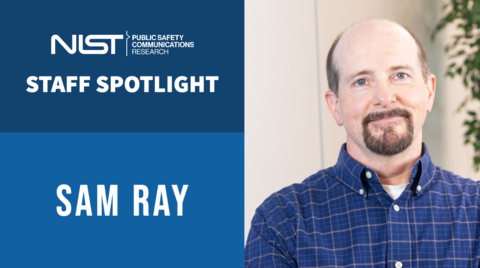 Sam Ray is the Mission Critical Voice (MCV) Research Portfolio Lead for NIST's Public Safety Communications Research (PSCR) Division. Sam actively contributes as a technical expert, utilizing his background in telecommunications and electrical engineering. He honed his expertise at Motorola, where he specialized in telecommunications cellular infrastructure and system testing and deployment, particularly for rest-of-world markets and throughout the United States. After spending a few years as an Engineering Manager, his passion for system testing and deployment drew him back to the laboratory, focusing on testing the long-term evolution (LTE) radio access network (RAN). Sam's unique perspective, combining systems engineering and electrical engineering, greatly influences his approach to the work he undertakes, making him an invaluable asset to the team.
PSCR's communication team interviewed Ray to shed light on the indispensable role of interoperability in public safety communications and share firsthand experiences of working closely with first responders. 
---
Can you describe the projects your team is working on? 
SR: LMR (land mobile radio) has long served as a reliable mainstay in this field, primarily offering push-to-talk (PTT) functionality. However, first responders require additional capabilities available on broadband networks. Although broadband is currently limited in terms of PTT applications and lacks device-to-device (D2D) capability, efforts are underway to support the transition and help first responders evaluate the benefits of adding broadband capabilities, including interoperability with LMR, while preserving or improving the performance of mission critical voice. The goal is to ensure that they can have an experience on broadband that equals or surpasses their previous experience with LMR. Education plays a crucial role in bridging any knowledge gaps, and many first responders already possess a mature understanding of technology. However, assistance is often required in practical laboratory work and research, areas where their resources are limited. Some individuals have had their first exposure to features like PTT applications on LTE phones through our interactions. This educational aspect remains integral to our work. 
What is a memorable moment you've had with public safety while working at PSCR? 
SR: During my first five years with PSCR, I dedicated a significant portion of my time to working in the Department of Homeland Security (DHS) research portfolio for our longstanding sponsor, the Science and Technology Directorate. One of the most fulfilling aspects of this period was the opportunity to conduct field experiments with first responders. Collaborating directly with them, observing their equipment proficiency, and learning from their expertise was immensely rewarding. Our mission revolves around serving first responders, and their insights and experiences are invaluable. Although my current role keeps me primarily in the lab, I really enjoyed those immersive field trips that lasted for a week or so. We are always looking for opportunities to work closely with EMS, fire services and law enforcement organizations.
How do the MCV team and the First Responder Network Authority (FRNA) currently work together? 
SR: We maintain close communications and collaboration with FRNA. We have weekly meetings between PSCR and FRNA technical staff, ensuring we stay informed about their observations, priorities, and the ongoing transition to broadband. As they are more closely connected to the current state of this transition, it is crucial for us to learn from their insights and align our efforts accordingly. While we aim to anticipate future needs and work on solutions several years ahead, we monitor their priorities closely to ensure alignment with public safety requirements. Additionally, we engage actively with the public safety community, seeking opportunities to discuss and understand their perspectives. 
How would you like to see FRNA and PSCR come together to collaborate on MCV technical issues? 
SR: One of our key objectives this year was collaborating with FRNA. Over the past year, we partnered on a prototype version of our Quality of Experience (QoE) key performance indicator (KPI) test system. We are excited to share our research version, known as Version 4, with them for evaluation in their lab. Their feedback will be valuable in quantifying and assessing potential solutions. In addition, we are engaged in ongoing discussions with FRNA regarding lab demonstrations here in Boulder, Colorado. Given the significant traffic flow through our lab, it presents an excellent opportunity to enhance our collaborative efforts and showcase our capabilities. One of the most exciting developments we're observing in MCV is the potential for device-to-device (D2D) communications. Our modeling and simulation group has devoted considerable effort to this area, and we are in discussions with a vendor who is nearing the realization of this concept. It's a top-of-mind priority for us, along with exploring what comes next after voice communication, such as data and video transmission. Personally, I'm eager to embrace whatever lies ahead and the opportunities it presents. In particular, we have invested significant resources into 5G research in our lab, including standalone and non-standalone solutions, millimeter wave and New Radio networks, and test equipment upgrades. It will be gratifying to witness the usability of technologies like millimeter wave and experience the benefits of 5G.
SR: 5x5 is a highly anticipated event for us as it brings together stakeholders from various sectors such as first responders, public safety industry leaders, members of academia, and many more. It serves as a focused week of concentrated discussions, highlighting the work we do throughout the year. The energy and dedication of everyone present, all with a vested interest in public safety, make it an invaluable opportunity. Personally, I find great value in interacting with the individuals we communicate with remotely throughout the year, finally meeting face-to-face during the summit. It's a fantastic occasion to connect with our exceptional partners who have collaborated with us on numerous initiatives throughout the year. While it only occurs once a year, the impact of those interactions is substantial.