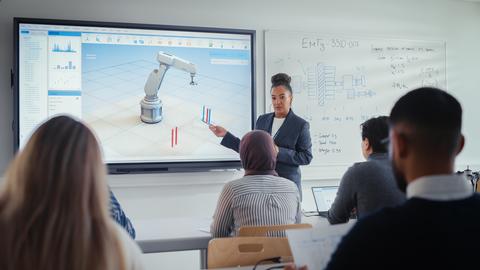 GAITHERSBURG, Md. — The U.S. Department of Commerce's National Institute of Standards and Technology (NIST) will award funding for the development of undergraduate and graduate curricula about the importance and impact of standards and standards development in domestic and global markets.  
NIST anticipates funding up to eight cooperative agreement awards ranging from $100,000 to $150,000 in fiscal year 2023. The awards will have a project performance period of up to three years and will be fully funded in the first year. 
The funds will be awarded under NIST's Standards Coordination Office Curricula Development Cooperative Agreement Program (SCOCD CAP). The SCOCD CAP is seeking applications to develop and incorporate undergraduate and graduate level curricula about documentary standards, standards development, and standardization into seminars, modules, courses, and learning resources using sustainable approaches that can be replicated and built upon. The recipients will work with NIST to strengthen education and learning about these topics.
Accredited institutions of higher education located in the United States or its territories are eligible to apply. Applications may include proposed sub-awards or contracts with non-profits, commercial organizations and other U.S. institutions of higher education. Although federal entities are not eligible to receive funding under this program, they may participate as unfunded collaborators.
NIST seeks to collaborate with and encourages applications from a wide range of organizations, including, but not limited to, community colleges, minority-serving institutions, and other accredited institutions of higher education dedicated to serving students from underrepresented groups. Industry support and partnerships that directly benefit undergraduate or graduate students are also encouraged. Past awardees have developed curricula that cover a wide range of topics, such as various science and engineering disciplines, business, public policy, law, multidisciplinary approaches, and more.
NIST promotes U.S. innovation and industrial competitiveness by advancing measurement science and standards. By working with industry and standards development organizations, NIST provides the technical and scientific underpinnings of sound standards in the U.S. and around the world.
Applications can be submitted through grants.gov until 11:59 p.m. Eastern Time, June 4, 2023.
NIST Standards Coordination Office Curricula Development Cooperative Agreement Program: scocdcap [at] nist.gov (scocdcap[at]nist[dot]gov)