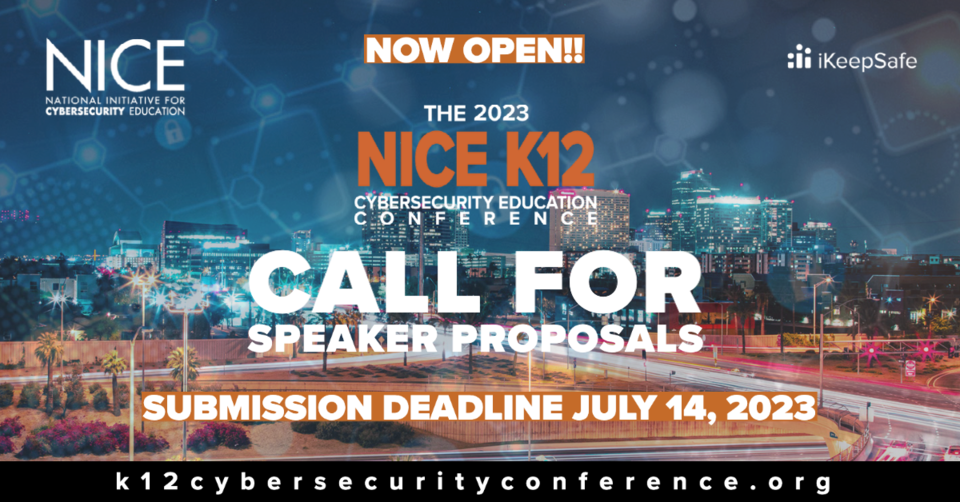 CALL FOR PROPOSALS NOW OPEN!
DESIGNING K12 LEARNING EXPERIENCES TO BUILD A DIVERSE AND SKILLED CYBERSECURITY WORKFORCE
The NICE K12 Cybersecurity Education Conference Call for Proposals opens today and will close on July 14, 2023 at 11:59PM PST. The 9th annual conference will be held on December 4-5, 2023, at the Hilton Phoenix Resort at The Peak in Phoenix, Arizona. There will also be pre-conference workshops on December 2-3.
The NICE K12 Conference Planning Committee seeks proposals from a diverse array of organizations and individuals with different perspectives, including K12 educators, students, school counselors, higher education faculty, employers and practitioners, non-profits, curriculum providers, research centers, and training and certification providers. Topics should align with one of the five conference tracks:
Increasing Cybersecurity Career Awareness

Engaging Students Where Disciplines Converge

Stimulating Innovative Cybersecurity Educational Approaches

Promoting Cybersecurity Career Pathways

Promoting Cyber Awareness
---
This event is supported by the National Initiative for Cybersecurity Education (NICE), a program of the National Institute of Standards and Technology in the U.S. Department of Commerce, under financial assistance award #70NANB20H144.