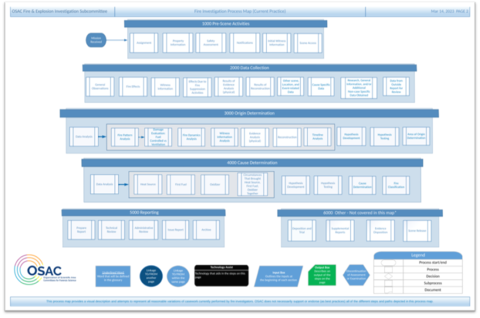 The Organization of Scientific Area Committees (OSAC) for Forensic Science's Fire Investigation & Explosion Subcommittee has developed a process map that captures the decision-making and process flow details most frequently encountered in the discipline of forensic fire investigation.
Process mapping is used to visually represent the critical steps and decision points of a workflow. Using standard symbols to describe each element in the process (e.g., inputs, outputs, decisions, and steps), a process map allows others to understand a process and its components more easily and clearly than long-form documentation. The Fire Investigation Process Map, which is intended to reflect current practices, provides a visual description of the steps most frequently encountered in forensic fire investigation. It was developed by a diverse group of practitioners and depicts variations in practice that may be influenced by agency size, agency type, agency policies, geographical location, and jurisdiction.
"The Fire Investigation Process Map is an important tool for both experienced fire investigators and those just beginning their careers. Using it can focus an investigator's thinking to help ensure that they carefully consider all the steps required to make informed and valid determinations of both origin and cause," said Philip Crombie, Chair of OSAC's Fire & Explosion Investigation Subcommittee.
In addition to describing the current state of forensic fire investigation, the Fire Investigation Process Map can also be used to help improve efficiencies in the investigation process, highlight gaps where further research or standardization would be beneficial and assist with training of new investigators. It may also be used to develop specific policies and identify best practices.
"Now that the current practices are in this format, it will allow those working to enhance the fire investigation methodology and procedures to focus on the potential gaps and make needed improvements. For example, the NFPA 921 Technical Committee may use the process map to identify areas needing change in that document. The map could also be added to the annex of NFPA 921 to reflect current practice for use by anyone involved in fire investigation. Also, fire investigation educators may use the map as a training tool and to identify gaps that lead to enhancements in curricula. As the practice of fire investigation evolves, it is hoped that the map will evolve as well to keep up with enhancements in the field," Crombie said.    
The National Institute of Standards and Technology (NIST), which is working to strengthen the practice of forensic science through research and improved standards, facilitated the development of this process map through a collaboration between the NIST Forensic Science Research Program and OSAC's Fire & Explosion Investigation Subcommittee. Additional process maps have been produced in the areas of seized drugs, DNA, firearms examinations, footwear & tire examinations, friction ridge examinations, and speaker recognition.