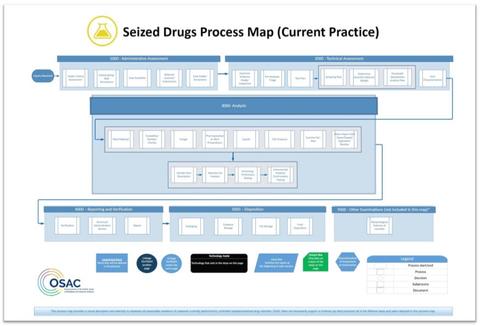 The Organization of Scientific Area Committees (OSAC) for Forensic Science's Seized Drugs Subcommittee has developed a process map that captures the decision-making and process flow details most frequently encountered in the discipline of seized drug examination and processing.
Process mapping is used to visually represent the critical steps and decision points of a workflow. Using standard symbols to describe each element in the process (e.g., inputs, outputs, decisions, and steps), a process map allows others to understand a process and its components more easily and clearly than long-form documentation. The Seized Drugs Process Map, which reflects the 'as-is' state of seized drug examinations, provides a visual description of the currently performed core casework processes within the discipline. It was developed by a diverse group of practitioners and depicts variations in practice that may be influenced by agency size, agency type, agency policies, geographical location, and jurisdiction. 
"Seized drug practitioners are required to make many decisions that can impact the quality and accuracy of their results. This process map is important to not only prioritize the development of specific standards, but to identify gaps in the standard development process. For example, the process map can be used to find areas of variability in the field and show which steps in the process have significant impact on the reliability of results," said Agnes Winokur, Chair of OSAC's Seized Drugs Subcommittee.
In addition to describing the current state of seized drug examinations, the Seized Drug Process Map can also be used to help improve efficiencies in the examination process, highlight gaps where further research or standardization would be beneficial and assist with training of new seized drug practitioners. It may also be used to develop specific laboratory policies and identify best practices.
"We also want to evaluate what processes are consistent in our field. The Seized Drugs Process Map will help us do that and see where there is room for improvement. For example, the Seized Drugs Subcommittee is already working on standards to address evidence handling, color tests, and reporting of results," Winokur said.
The National Institute of Standards and Technology (NIST), which is working to strengthen the practice of forensic science through research and improved standards, facilitated the development of this process map through a collaboration between the NIST Forensic Science Research Program and OSAC's Seized Drugs Subcommittee. Additional process maps have been produced for DNA, firearms examinations, footwear & tire examinations, friction ridge examinations, and speaker recognition.