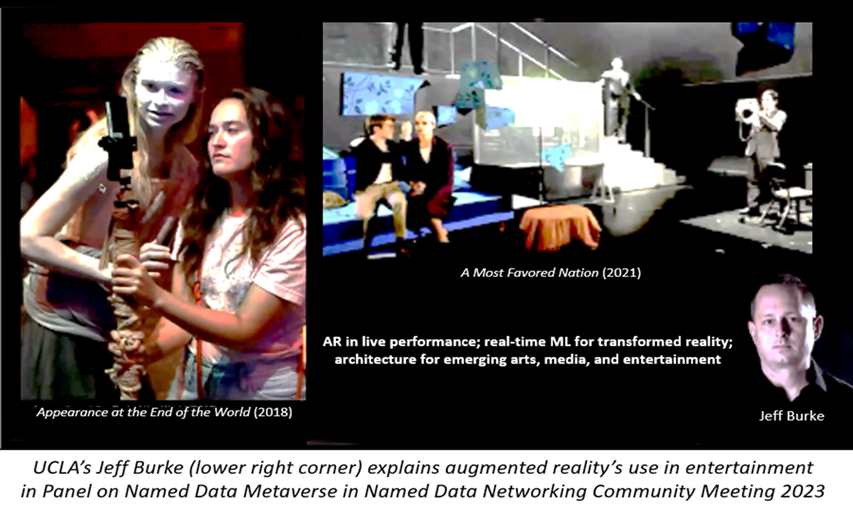 NIST conducted the Named Data Networking (NDN) Community Meeting 2023 in Gaithersburg, MD at its National Cybersecurity Center of Excellence and online, on 2-3 March 2023. The meeting, organized by NIST's Lotfi Benmohamed and external colleagues, is held annually and brings together researchers in the NDN community, which seeks an evolution from today's host-centric Internet architecture to a data-centric network architecture. This increased data-centric focus is seen as enhancing network usability and aiding mobile edge computing, Internet of Things, and augmented and virtual realities. Industry participation at this event included Airbus, Cisco Systems, Dell Technologies, Eluvio, Intel, and Operant Networks.
Researchers presented on a range of NDN-related issues, including:
Mission-Critical Emergency Operations: Researchers are pursuing disruption-tolerant networks, which have uses in these operations as well as in rural networking and manufacturing.

NDN for Vehicular Networking: Researchers reported that NDN is likely to improve interoperability between electronic control units and that a data-centric architecture has advantages for in-vehicle communications.

Secure Data Transfer for Mobile Health Infrastructure: Researchers developed an NDN architecture that addresses the security challenges related to smartwatches, fitness trackers, and body sensors.

NDN Opportunities in 5G/6G Core Networks: NIST researchers showed the benefits of NDN in 5G networks and how NDN could simplify a service-based architecture in 5G networks.
Panels also addressed the following:
Lessons Learned: Panelists discussed the lessons learned from more than 10 years of NDN research, and presented insights about specific aspects of the NDN architecture, including naming the data, which is central to NDN; different business cases for NDN deployment; and application programming interfaces for NDN application developers.

Named Data Metaverse: This panel discussed the use of the NDN technology for building Metaverse systems such as augmented/virtual realities for Internet-based experiences and existing gaps and related research opportunities to address Metaverse system requirements.

Time for Standardization? Despite considerable research, NDN has not significantly impacted the commercial space. This panel addressed whether standardization of NDN at this point in time is needed to achieve higher industry adoption of the technology.
Recordings of the meeting as well as presentation abstracts are online.