Despite Slowing Economy, Demand for Cybersecurity Workers Remains Strong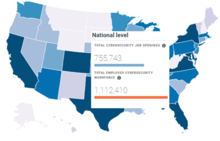 Today during the Federal Cybersecurity Workforce Webinar on Providing Timely and Clear Data to Support Federal Cybersecurity Workforce Needs, updates to CyberSeek.org were announced. 
The updates include insight that the total number of employed cybersecurity workers held fairly steady in 2022 at around 1.1 million, while the number of online job postings edged down to 755,743 from 769,736 in the 12-month period ending in December 2022.
Learn more about these updates in the official press release.
---
CyberSeek is supported by the National Initiative for Cybersecurity Education (NICE), a program of the National Institute of Standards and Technology in the U.S. Department of Commerce, under financial assistance award #60NANB22D100. Learn more at cyberseek.org.