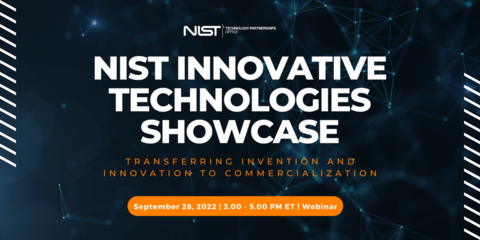 The Technology Partnerships Office (TPO) recently hosted the NIST Innovative Technologies Showcase. It was a virtual event to highlight cutting-edge technologies from NIST. It provided a platform for the researchers to present the technical aspects and potential societal benefits of these technologies. The overarching theme for the event focused on transferring invention and innovation to commercialization. TPO wanted to make it a focal point to draw audience interest in pursuing collaborative efforts or licensing opportunities with the NIST researchers and technologies.
TPO's primary mission is to assist in federal technology transfer of NIST technologies. TPO does this by helping pave the way, through partnerships and agreements, in getting the inventions to the private sector and manufacturing facilities to scale up products for the consumer market and to drive the American economy.
TPO worked with four NIST researchers to develop this showcase event around their technologies. These innovations were all ready to move to the next step of commercialization. The NIST researchers and their technologies that made up this event were:
Zeeshan Ahmed (Physical Measurement Laboratory) - Photonic Dosimeter and Calorimeter Technology
Paul Williams (Physical Measurement Laboratory) – Smart Mirror: Noninvasively Measuring Laser Power Technology
Greg Cooksey (Physical Measurement Laboratory) – Optical Flow Meter and Serial Cytometry Technology
Paul Patrone (Physical Measurement Laboratory) - Optical Flow Meter and Serial Cytometry Technology
During the showcase event, these researchers first presented their technologies. They provided the audience with a technical rundown on how they work and their potential use cases for the commercial sector. Afterward, Martin Hindel of TPO moderated a panel discussion on how to collaborate with or license a NIST technology.
TPO plans to host more technology showcase events in the future to further encourage an ecosystem of innovation and product development. Many NIST technologies can use a commercial partner to bring them to market and these events will help spotlight this.
Check out the showcase presentations here.