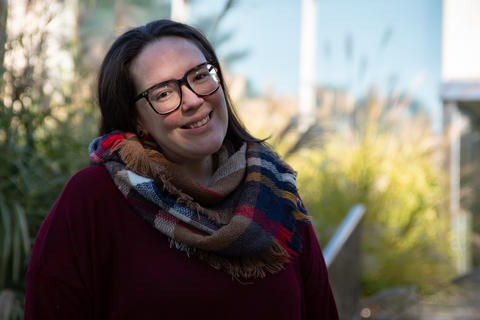 Five years ago, Category 4 Hurricane Maria struck the island of Puerto Rico. Thousands of miles away, NIST social research scientist Camila Espina Young — a Ph.D. student at the time — could do little more than watch the disaster unfold on her home island.
The little that she could do still mattered. Located in a small community in New York with limited internet access, Camila turned on her computer, jumped onto social media and started amplifying any critical information for the public (shelter locations, news reports, etc.) that she could find. She was constantly refreshing her social media feeds to gather and share as much intel as possible.
But as the minutes and hours passed by, she started to see voices from the island turn silent. Cell service cut out in Puerto Rico. The only people online were family and friends of the Puerto Rican diáspora concerned about their loved ones.
That was an awful day.
Now at NIST, Camila works on a National Construction Safety Team investigation of how critical buildings performed during the storm, as well as how emergency communications systems worked. 
Specifically, she uses her background as a journalist and expertise in disaster communications to evaluate storm shelter selection criteria and design requirements. Camila gathers data on the storm shelters selected for use during Hurricane Maria, as well as the way those selections were communicated to the public.
And amid the shelter lists and databases, her connection to the island shines through.
In her heart, Camila never strays too far, keeping one eye on the island and the other on her stateside life. As a native Spanish speaker from Puerto Rico, she adds an essential layer of context and background to the effort.
That means she can help keep our other researchers up to date on the news and events of Puerto Rico. She can parse complex Spanish-language documents (news reports, government documents, etc.) and quickly determine their relevance. And she helps to ensure the language we use to connect with the community in Puerto Rico accurately reflects the nuances of Spanish used on the island.
For Camila, the worst thing that ever happened became an opportunity in her professional life. Now, it's a personal motivator.
---
De vicisitud a fortaleza: Camila Young evalúa refugios luego del Huracán María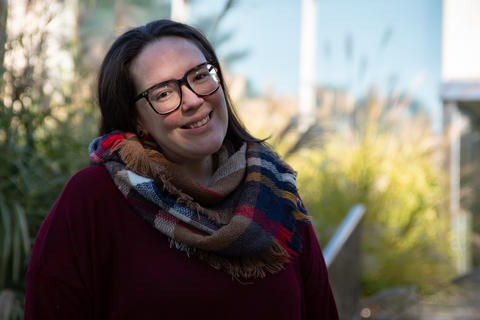 Hace cinco años, un poderoso huracán categoría 4 azotó al archipiélago de Puerto Rico. A miles de millas de allí, la investigadora en ciencias sociales Camila Espina Young – una estudiante doctoral para aquel entonces – no pudo hacer mucho más allá que observar cómo se desenvolvía el desastre en su isla. 
Lo poco que pudo hacer aún importó. Ubicada en una pequeña comunidad en el estado de Nueva York, Camila encendió su computadora, entró a las redes sociales, y comenzó a amplificar toda información crítica que pudo encontrar para el público (la ubicación de los refugios, noticias, etc.). Constantemente actualizaba sus redes para capturar y compartir toda la información posible. 
Pero, a medida que pasaban los minutos y las horas, ella notó que las voces de aquellos en la isla disminuían. Puerto Rico se quedó sin servicio telefónico. Las únicas personas conectadas a las redes pertenecían a la diáspora, amigos y familiares preocupados por aquellos que permanecían en la isla. 
Fue un día terrible.
Ahora en NIST, Camila trabaja en el proyecto del Equipo Nacional de Seguridad en la Construcción enfocado en el desempeño de edificios críticos, así como el desempeño de los sistemas de comunicaciones de emergencia y la respuesta del público a tales comunicaciones.
Específicamente, ella utiliza su preparación como periodista y su especialización en la comunicación de desastres para evaluar el criterio de selección y los requisitos de diseño de los refugios de tormenta. Camila recopila información sobre los refugios que fueron seleccionados para usarse durante el Huracán Maria, así como la manera en que dicha selección fue comunicada al público. 
Y entre la lista de refugios y las bases de datos, su conexión a la Isla brilla. 
En su corazón, Camila jamás se aleja mucho, siempre pendiente a la Isla y a su vida en los Estados Unidos. Como puertorriqueña hispanoparlante, le añade un elemento esencial de contexto y trasfondo al esfuerzo. 
Esto significa que ella ayuda a que otros de nuestros investigadores se mantengan al día con las noticias y otros eventos en Puerto Rico. Ella puede evaluar documentos complejos en español (reportajes, informes gubernamentales, etc.) y rápidamente determinar su relevancia. Además, se cerciora de que el lenguaje que utilizamos para conectar con las comunidades en Puerto Rico refleje correctamente las sutilezas del idioma que se utiliza en la Isla. 
Para Camila, lo peor que pudo haber pasado se convirtió en una oportunidad profesional. Ahora, es una motivación personal.