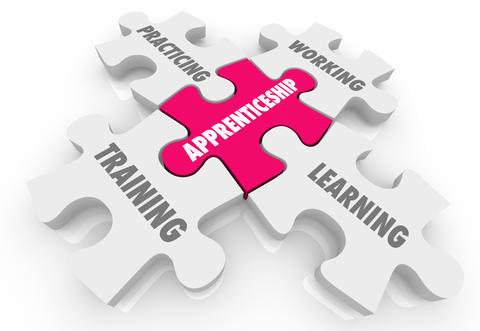 THE US DEPARTMENTS OF LABOR AND COMMERCE KICK OFF A 120-DAY CYBERSECURITY APPRENTICESHIP SPRINT
The Cybersecurity Apprenticeship Sprint seeks to recruit employers, industry associations, labor unions, educational providers, community-based organizations, and others to establish Registered Apprenticeship programs or to join existing programs to equip the nation's economic sectors with greater numbers of qualified cybersecurity workers. 
In support of multiple objectives in the NICE Strategic Plan, cybersecurity apprenticeships are an effective pathway to careers in cybersecurity. They also enhance capabilities of organizations to effectively recruit, hire, develop, and retain the talent needed to manage cybersecurity-related risks.
The Cybersecurity Apprenticeship Sprint will help meet these critical cybersecurity workforce needs by connecting career seekers to cybersecurity apprenticeship opportunities. During the 120-day Sprint, Apprenticeship Accelerators will be held to provide apprenticeship stakeholders (employers and other workforce partners) with resources and information on how to accelerate the further use and adoption of Registered Apprenticeships in cybersecurity.
The Sprint will continue until National Apprenticeship Week, November 14-20, 2022.
"Even though there are already over 300 cybersecurity apprenticeship programs in the United States, we need more. The new Cybersecurity Apprenticeship Sprint is going to help to increase capacity by encouraging employers to build new programs or expand existing ones. "
-Marian Merritt, Deputy Director, NICE and
Liaison, Apprenticeship Community of Interest
Interested in sharing and learning more about cybersecurity apprenticeships?
The Apprenticeships in Cybersecurity Community of Interest will meet this Friday, July 22 at 11am ET. Visit the Community website and join the group to get details on meeting information. 
Want to find cybersecurity apprenticeship programs?
Explore the NICE Cybersecurity Apprenticeship Program Finder. New apprenticeship programs that are participating as part of the Cybersecurity Apprenticeship Sprint will be notated on the map.