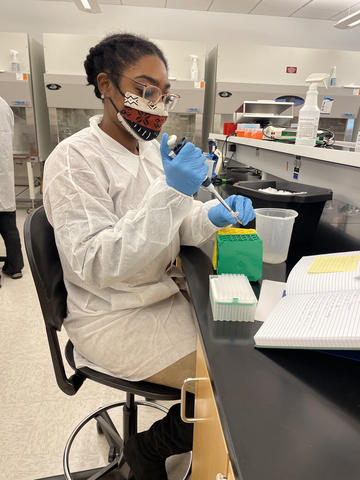 A breath of fresh air — Diane Nelson recently joined NIST as a postdoctoral researcher, open to opportunities and committed to her craft.
The inner workings of the human body held a fascination for Diane long before she reached NIST. She was determined as a high schooler to one day serve as an obstetric gynecologist and work with babies. Also in high school, she discovered an interest in applied mathematics.
Those two passions — the human body and mathematics — collided when Diane took an undergraduate course in quantitative physiology during a program run jointly by Georgetown University and Columbia University. It was a perfect match, pushing her toward new pursuits in biomedical engineering instead of obstetrics.
In her final year at Columbia, another academic project refined Diane's scope further. Her senior design project dealt with the lungs of premature infants in Uganda. These delicate lungs require more oxygen, but too great a concentration can cause blindness, and developing countries only have access to 100% oxygen in tanks.
The focus on lungs continued during her doctoral studies and subsequent postdoctoral associateship at Carnegie Mellon University. There, Diane explored the intricacies of liquid breathing technology (using a gentle liquid to enhance breathing instead of a harsh mechanical ventilator) to deliver drugs to cystic fibrosis patients.
Now at NIST as a postdoc through the NIST NRC Postdoctoral Research Associateships Program, Diane takes a closer look at nano-sized biological components involved in lung function.
Cells secrete little cargo holds of sorts called extracellular vesicles (or EVs), which carry proteins, DNA and more to other parts of the body. Diane is looking for small changes to the EVs when cells are exposed to toxins or pollutants, something that is often too small to measure by traditional means but could damage the lungs over time.