NATIONAL K12 CYBERSECURITY EDUCATION ROADMAP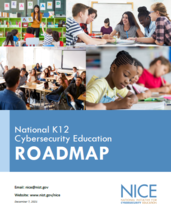 NICE Community Coordinating Council is pleased to announce the National K12 Cybersecurity Education Roadmap. Announced today at the NICE K12 Cybersecurity Education Conference, the Roadmap provides strategies for increasing the quantity, quality, and diversity of students pursuing cybersecurity careers. The Roadmap outlines five major elements:
Increase Cybersecurity Career Awareness
Engage Students Where Disciplines Converge
Stimulate Innovative Educational Approaches
Promote Cybersecurity Career Pathways
Prioritize Research
CONGRATULATIONS TO THE 2021 PRESIDENTIAL CYBERSECURITY EDUCATOR AWARD WINNERS
The Presidential Cybersecurity Education Award is presented by the U.S. Department of Education to two educators, one elementary and one secondary, who instill in their students the knowledge, skills, and passion for cybersecurity and related subjects. Award recipients embody the expertise and dedication of educators who are critical to strengthening the nation's cybersecurity workforce.
Today at the NICE K12 Cybersecurity Education Conference, attendees heard about this year's winners:
Kristi Rice, Spotsylvania High School, Spotsylvanis, VA
Sergio De Alba, R.M. Miano Elementary, Los Banos, CA
Read the full press release from the Department of Education