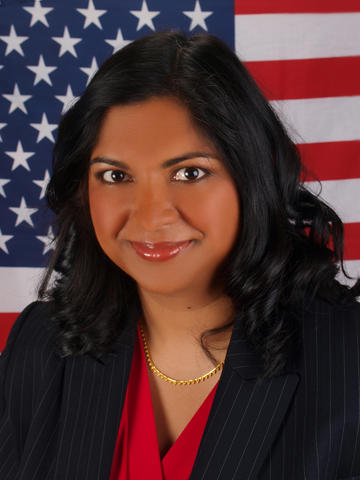 GAITHERSBURG, Md. — The U.S. Department of Commerce's National Institute of Standards and Technology (NIST) has selected Pravina Raghavan as the new director of the Hollings Manufacturing Extension Partnership (MEP), which helps small and medium-size U.S. manufacturers develop new products and customers, expand and diversify markets, adopt new technology, and improve supply chains. 
"We are excited to welcome Pravina to NIST to lead the Manufacturing Extension Partnership as it helps to ensure our country has a strong manufacturing base," said James Olthoff, who is performing the nonexclusive functions and duties of the under secretary of commerce for standards and technology and NIST director. "She has extensive experience connecting companies with the resources they need to succeed, which is exactly what MEP's public-private partnerships do for manufacturers across the United States."
Raghavan joins NIST with more than 20 years of experience providing advisory services to businesses in the startup, growth, expansion and maturity phases of development. She most recently served as executive vice president in the Division of Small Business and Technology Development for Empire State Development, the New York State economic development agency. In that role, she led and managed the New York Manufacturing Extension Partnership, which provides more than $10 billion in economic impact for the state; created and implemented the $100 million New York Forward Loan Fund and Empire State Digital resource for COVID-19 small business recovery; and designed and implemented the state's $800 million COVID-19 Small Business Recovery Grant Program.
She also served as deputy associate administrator of investment and innovation at the U.S. Small Business Administration (SBA) and was responsible for the Small Business Investment Companies Program, Small Business Innovation Research Program and High Growth Entrepreneur initiatives. She also served as district director for SBA's New York District Office.
"A strong manufacturing ecosystem is vital to our national economic security and — as the pandemic has shown — even to our health and safety," said Mojdeh Bahar, NIST associate director for innovation and industry services. "Pravina brings a wealth of experience that I know will serve her well as she leads this important program. I'm also glad to welcome her back to the Department of Commerce." 
Raghavan previously served as senior adviser to then-Deputy Secretary of Commerce Bruce H. Andrews. In that role, she worked on a large number of economic and operational issues across the department, including strategic planning and policy development on various topics including emergency management, economic development, international trade, weather, budget, contracts, staffing and technology development.
Before joining the federal government, Raghavan was a vice president with MTV and BET Networks, a founder and owner of a global strategic advisory firm, and business development director for Misys PLC, one of the world's largest banking software companies. She was also an associate at Broadview International, a London investment bank, and worked at AT&T in several finance and management roles, including her last five years as mergers and acquisitions director for Europe and Asia. Raghavan has an M.B.A. in finance from Seton Hall University and a B.S. in finance from the Pennsylvania State University.
Since 1988, MEP's industry experts have worked side by side with their partners in the public and private sectors to strengthen communities and U.S. manufacturing. In fiscal year 2020, for every $1 of federal investment, the MEP National Network™ generated $19.60 in new sales growth for manufacturers. For every $1,381 of federal investment, the network created or retained one manufacturing job.