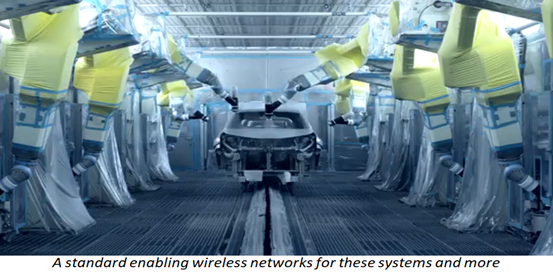 On November 16, 2021, IEEE initiated the IEEE P1451.p working group, now identified as IEEE P3388, chaired by NIST's Rick Candell and assisted by NIST's Kang Lee and Karl Montgomery. The working group seeks to produce a standard that specifies the radio frequency environment characteristics and configuration for performance evaluation of industrial wireless network designs, before commissioned deployment in industrial and mission-critical settings. This standard will include a model that represents the radio frequency environment and will account for factors (aggressors) degrading the performance of radio channels, such as jamming and interference, competing for traffic overlays, and multi-path. The standard will include profiles that address levels of severity and the unique radio channel challenges of different industries and application scenarios.
Research and standardization to be conducted under this working group were requested by industry at the Workshop on Performance of Industrial Wireless Mechatronics Systems on June 8, 2021, at the IEEE Industrial Electronics Society's International Conference on Factory Communication Systems. 
The IEEE P3388 standard (previously IEEE P1451.5p) is seen as significantly benefiting industry by advancing confidence in the use of wireless technologies for applications in the Industrial Internet of Things, from sensing and actuating to automation and real-time control. This standard also would enable important concepts of smart manufacturing such as mobility of actors, factory agility, flexibility of factory configuration and deployment, and simplicity of maintenance. Smart manufacturing is seen as more efficient than present-day manufacturing practices. Additionally, the use of wireless technologies would reduce cabling and thus cut costs, as well as allow more mobile and reconfigurable networks. Verification of wireless network performance on the factory floor is an essential part of the industrial wireless deployment lifecycle (See NIST AMS 300-4 Guide to Industrial Wireless Systems Deployments) for which standardization in test configuration plays a crucial part.