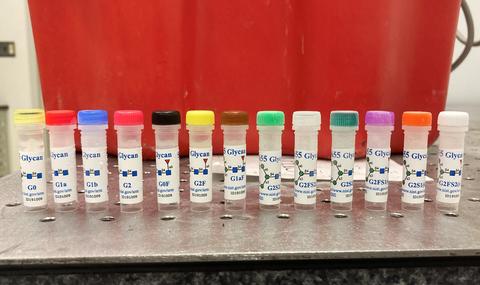 Sugars not only provide nourishment in the food you eat but can also act as biomarkers for detecting disease. When certain types of simple sugars, such as mannose, link to each other in certain ways, they form complex molecules called glycans. Accurate measurements of glycan molecules have wide-reaching applications, from supporting the development of new pharmaceuticals to diagnosing diseases such as cancer.
Glycans are typically attached to proteins and can influence the structure and function of those proteins. For example, glycans can be bound to monoclonal antibodies (mAbs), a type of biological drug used in efforts to target specific diseases. However, regardless of the application, researchers need a standard to monitor the makeup and amount of glycan compounds in their products. 
Researchers at the National Institute of Standards and Technology (NIST) have released a standard reference material — SRM 3655, Glycans in Solution — that will help meet manufacturers' needs for accuracy when analyzing their biological drugs. The SRM will also provide a standard for accurate measurements in understanding the function and form of glycans.
"This SRM is designed to make accurate quantitative measurements of glycans. It's intended to support the biomanufacturing industry to assess the consistency of their biomanufacturing process and provide more clear understanding of that drug product," said NIST researcher Mark Lowenthal.
Glycans are naturally found in nearly all living organisms. They form essential structures that make up cell walls, facilitate communication between cells, and carry out other biological processes. They play a role in our immune systems by regulating antibody activity but can also be used by viruses and bacteria to evade our immune systems.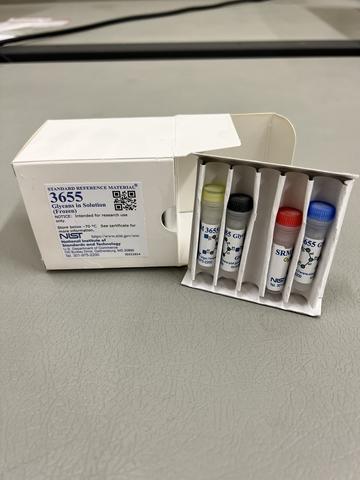 The glycans analyzed in this SRM represent a type known as "N-linked" glycans, which are linked to protein molecules. N-linked glycans are commonly found in the complex cells of humans and other animals. Mutations or changes in N-linked glycans can affect our health because they are associated with different diseases like autoimmune disorders, cancer and diabetes, which is why accurate analysis and understanding of them is so important.
"All the glycans in this SRM are made up of similar subunits of individual simple sugars including galactose, N-acetylglucosamine, fucose, sialic acid or mannose. But the way they're linked together or branched or structured is what makes them so challenging to measure," said Lowenthal. "N-linked glycans are commonly found on proteins, but always on a specific amino acid within a specific sequence."
The SRM consists of 13 N-linked glycans that are among the most abundant and most common glycans associated with therapeutic monoclonal antibodies. 
NIST collaborated with researcher Geert-Jan Boons at the University of Georgia's Complex Carbohydrate Research Center. His group ran the large-scale chemical and enzyme-based synthesis and purification of the material before providing it in a powdered form.
NIST researchers then characterized the material for purity, homogeneity and concentration. "The quantitative measurements were done through gravimetric analysis and confirmed by mass spectrometry, while purity analysis involved other high-resolution mass spectrometry techniques, water analysis, and fluorescence spectroscopy," said Lowenthal. 
Gravimetric analysis is weighing the powdered form of the sample and the diluting agent on accurate and precise scales in a controlled environment. Mass spectrometry is a method that identifies specific molecules by measuring the mass-to-charge ratios of molecular ions. Researchers used these analytical techniques to make sure the material contained specific glycan molecules without any impurities, with the same uniformity and concentration level in the material. The SRM is stored at minus 80 degrees Celsius (minus 112 degrees Fahrenheit). 
The SRM will also be useful to academic researchers studying glycomics, which aims to identify the quantity, structure and functions of various classes of sugar molecules to which glycans belong. Cancer researchers also study N-linked glycans and may find the SRM useful as well, said Lowenthal.
SRM 3655 is now available at NIST, and organizations wishing to purchase the SRM can visit the NIST SRM webpage.