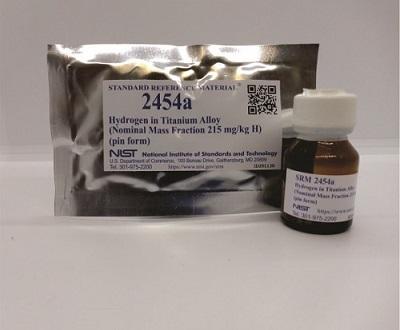 Hydrogen in titanium and other metal alloys can cause embrittlement, leading to fractures in manufactured parts. A popular NIST reference material for measurements of the amount of hydrogen in titanium is now available in pin form, making it easier to use with some types of analytical instrumentation. The pin form, with less surface area from which hydrogen might diffuse, also makes the reference material more stable over time.

Titanium alloys, light in weight but strong, are widely used for key components throughout the aerospace industry and in power generation equipment. Because failure in critical components might be catastrophic, manufacturers of titanium alloys and parts routinely test for the amount of hydrogen in their products to comply with industry specifications. This reference material was requested by a producer of titanium alloys, and NIST's discussions with consumers and testing labs confirmed the community's need.

To prepare reference material 2454a, the alloy was "dosed" with a known quantity of hydrogen using a process developed by NIST metallurgists that converts the hydrogen to a stable, chemically bound form. The NIST reference material does not require additional preparation before testing.

A unit of SRM 2454a consists of one bottle containing 10 grams of pins, each weighing approximately 0.10 grams. Each pin is approximately 2.5 millimeters in diameter and 4.5 millimeters long. NIST measured the hydrogen in this reference material with prompt gamma-ray activation analysis and provides a certified value for hydrogen, meaning that NIST has the highest confidence that all known or suspected sources of measurement bias have been evaluated. The material was also measured by the material supplier with inert gas fusion.