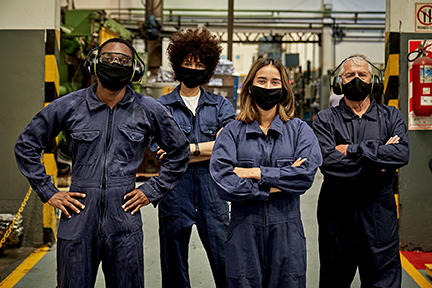 The U.S. Commerce Department's National Institute of Standards and Technology (NIST) Manufacturing Extension Partnership (MEP) has made two cooperative agreement awards totaling nearly $1.5 million as part of its 2021-NIST-MEP-CAP-01 Notice of Funding Opportunities (NOFOs). This funding opportunity is available for MEP Centers to add capabilities to the MEP program including developing projects to solve new or emerging manufacturing problems that are not already provided for under a Center's base MEP award. Project themes for these awards include Industry/Manufacturing 4.0; manufacturing workforce services to include employee recruitment, retention and employee development; supply chain management and resiliency; and artificial intelligence application.  
Arizona Commerce Authority, the MEP Center in Arizona, will lead a project to expand on the existing ExporTech program. ExporTech 2.0: A New ExporTech to Position Manufacturers for Recovery and Global Growth will enhance the capabilities of the MEP National Network™ and solve problems for small and medium-sized manufacturers by increasing the volume of participants in the ExporTech program and the overall impact of the program in each Center's region. The project will incorporate virtual program models and service delivery, as well as other program improvements, making it more time efficient and effective for participating programs. The project is funded from Sept. 1, 2021 to Aug. 31, 2022 for $557,078.08.
Iowa State University of Science and Technology has been awarded funding for a project to enhance diversity in manufacturing. The project is a collaboration between the Center for Industrial Research and Service (the Iowa MEP Center) and three subrecipients: Illinois Manufacturing Excellence Center (the Illinois MEP Center), Kansas Manufacturing Solutions (the Kansas MEP Center) and Manufacturing Advocacy and Growth Network (part of Ohio MEP). The project aims to increase the diversity of manufacturing and engineering talent across the MEP National Network and in manufacturing. The focus is a two-year MEP Center internship program for undergraduate and graduate students from underrepresented minorities. The project includes developing a pipeline of future talent for MEP Centers and their small and medium-sized manufacturing clients. The project is funded from Sept. 1, 2021 to May 31, 2023 for $919,982.