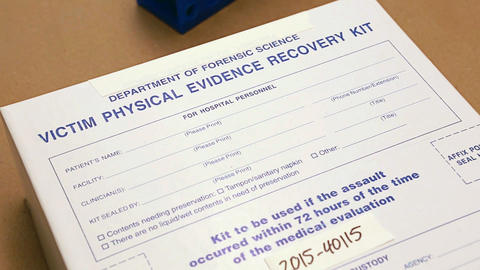 GAITHERSBURG, Md. — The National Institute of Standards and Technology (NIST) announced today that the Organization of Scientific Area Committees for Forensic Science (OSAC), which is administered by NIST, will launch a new subcommittee that will draft standards for collecting physical evidence from victims of sexual assault. The goal of the new standards will be to improve the quality of care for victims and help ensure that evidence is properly collected and preserved until a crime lab can analyze it. OSAC is seeking experts to serve on the new forensic nursing subcommittee, named for the professional caregivers who conduct many sexual assault examinations.
OSAC, which is part of NIST's larger Forensic Science Program, works to accelerate the development and adoption of high-quality, technically sound standards for forensic science. 
Forensic nurses are trained to provide comprehensive care to victims of violence, to collect evidence that may be presented in court and to testify in court. Sexual assault examinations are not always conducted by forensic nurses, but they are always conducted by a medical professional, whether a nurse, a doctor or physician's assistant. Most sexual assault examinations are done at hospitals, though they can also take place in community-based health clinics, child advocacy centers, mobile units, rape crisis centers and family justice centers.
"Sexual assault examinations are complex because they have to meet both the medical needs of the victim and the evidentiary needs of the criminal justice system," said Marnie Shiels, an attorney with the Office on Violence Against Women at the U.S. Department of Justice. "Standards will raise the bar so that all victims receive an examination that is both care-focused and forensically sound."
One initial aim of this new effort will be to develop a standard sexual assault kit, which is the package of items that a nurse or other caregiver uses to collect physical evidence such as DNA samples from victims. Currently, there is no standard sexual assault kit. Different kits are used, and different types of evidence are collected, depending on where the examination takes place. Standardized sexual assault kits will help ensure that the right evidence is collected and properly stored so it can be used in investigations and court proceedings.
"Standards will raise the bar so that all victims receive an examination that is both care-focused and forensically sound." —Marnie Shiels, Department of Justice Office on Violence Against Women
In addition to sexual assault kits, the forensic nursing subcommittee will draft standards for sexual assault examinations, for developing and validating new methods, and for training and continuing education of practitioners. While the subcommittee will initially focus on adult victims of sexual assault, future efforts may expand to elder abuse, child abuse and human trafficking. 
"We as a society are asking victims of sexual assault to submit to an invasive examination when they are at their most vulnerable," said Jennifer Pierce-Weeks, CEO of the International Association of Forensic Nurses. "Standards will help ensure that examinations are done correctly and don't unnecessarily add to the patient's trauma."
The DOJ's Office on Violence Against Women already produces guidelines and best practices documents for sexual assault examinations. The International Association of Forensic Nurses produces training programs, education guidelines and board certification programs for the profession.
The new draft standards from OSAC will build upon these existing efforts. They will be drafted using a process that involves forensic nurses, experts from the forensic, legal and law enforcement communities, and input from the public. When complete, OSAC will forward the draft standards to a standards developing organization for further refinement, adoption and publication as formal standards. The entire standards development process often takes several years to complete.
Forensic standards are not required in most jurisdictions, and any new standards will only be useful to the extent that organizations adopt them. However, many organizations voluntarily adopt, implement and use standards to improve their processes and ensure quality.
"Formal standards bring greater uniformity and objectivity to forensic practice and provide a platform for future improvements," said John Paul Jones, the NIST program manager who oversees OSAC. 
OSAC's first step toward drafting new standards is to recruit experts to serve on the new forensic nursing subcommittee. Experts in the following areas are encouraged to apply:
Trained forensic practitioners (nurses, nurse practitioners, forensic medical practitioners, physicians, physician assistants, etc.);
Law enforcement personnel with experience investigating sexual assaults;
DNA examiners with experience processing sexual assault kits;
Toxicologists with experience analyzing drug-facilitated sexual assaults;
Representatives from sexual assault victim services organizations and advocacy groups;
Quality managers;
Human factors experts;
Experts on bias and ethics;
Legal experts; and
Statisticians.
Applications will be accepted through Aug. 25, 2021. Organizations can submit letters of recommendation on behalf of applicants. As OSAC currently has limited expertise in forensic nursing, DOJ's Office on Violence Against Women will assist in the selection process.
More information on the application process and selection criteria are available on the NIST website.
OSAC's roughly 500 members work in forensic science, research, government and other institutions around the U.S. and the world. To learn more about OSAC, visit NIST.gov/OSAC.