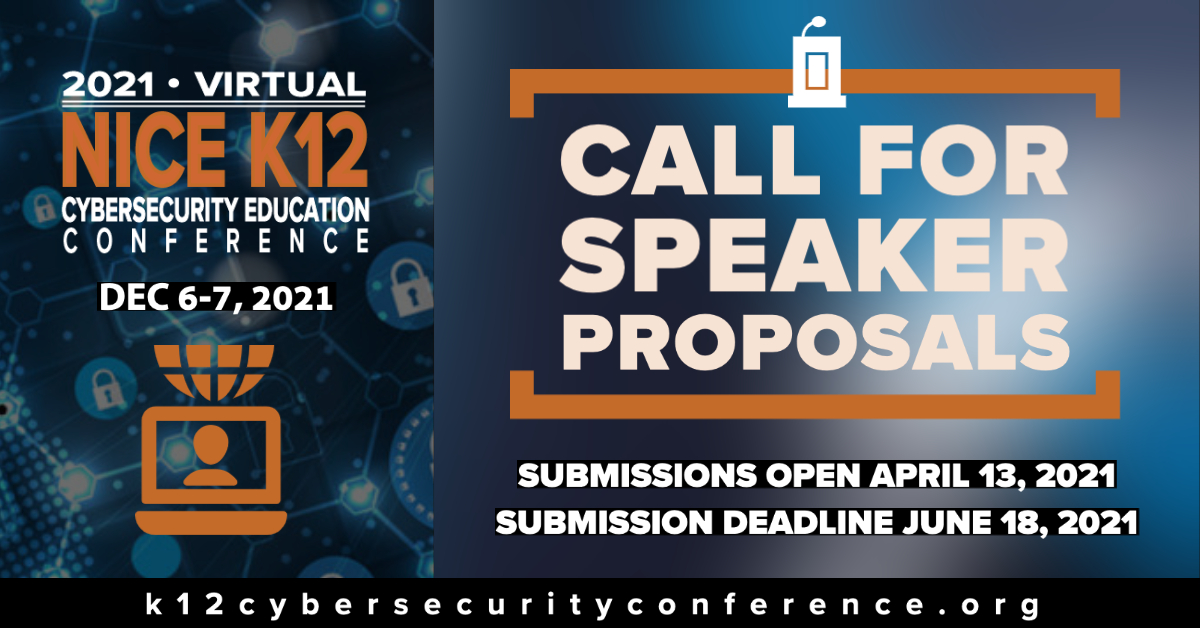 CALL FOR PROPOSALS is open now through June 18 
"Broadening the Path to Cybersecurity Careers




Through K12 Education"
We encourage proposals from a diverse array of organizations and individuals with different perspectives, including K12 educators, school counselors, students, institutions of higher education faculty, employers and practitioners, non-profits, curriculum providers, research centers, and training and certification providers. Topics should align with one of the five conference tracks:

1.   Increasing Cybersecurity Career Awareness
2.   Engaging Students Where Disciplines Converge
3.   Stimulating Innovative Cybersecurity Educational Approaches
4.   Designing Cybersecurity Academic and Career Pathways
5.   Promoting Cyber Awareness

This fully virtual conference provides an array of presentation formats including live-virtual concurrent speaking and panel sessions, hybrid "Ted-X style" talks, hybrid poster sessions, and pre-recorded on-demand video presentations. The VIRTUAL NICE K12 Cybersecurity Education Conference takes place on December 6-7, 2021.
Act now - Submissions close on June 18, 2021


 
More Info & Submission Details

---
This event is supported by the National Initiative for Cybersecurity Education (NICE), a program of the National Institute of Standards and Technology in the U.S. Department of Commerce, under financial assistance award #70NANB20H144.