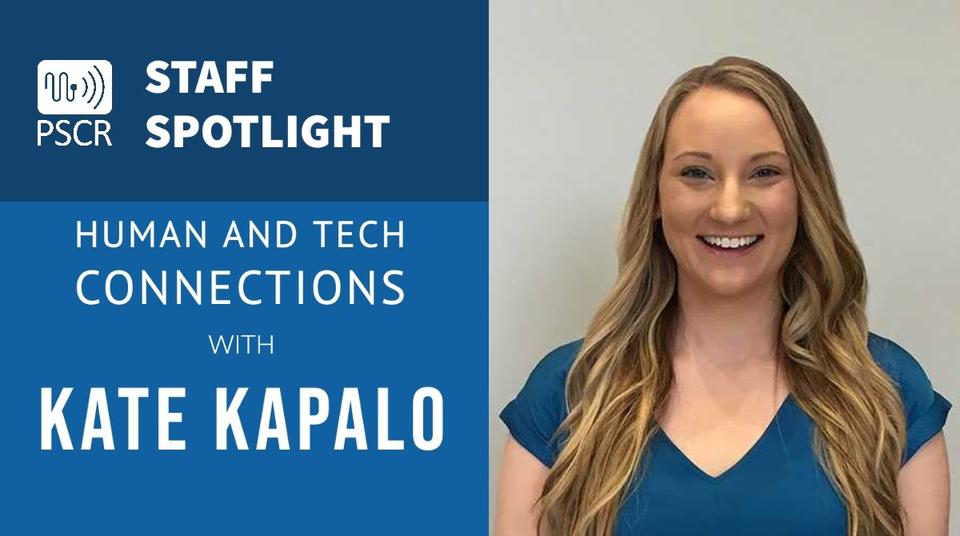 Kate Kapalo is the Lead User Experience Researcher at NIST's Public Safety Communications Research Division. Dr. Kapalo's expertise lies at the intersection of human and technology interactions. Working in her field, Dr. Kapalo is often one of the only female contributors on her team. As a first-generation college student and innovator in her field, Dr. Kapalo serves as an incredible advocate and support system for students and women pursuing careers in science, technology, engineering, and mathematics (STEM).
PSCR's communications team interviewed Dr. Kapalo to learn more about her passion for human cognition and technology design, and her experience working in STEM.
---
Can you describe your current role? 
KK: I am currently a Postdoctoral Researcher and the Lead User Experience Researcher for PSCR's User Interface User Experience Research Portfolio. I am responsible for collaborating with our virtual and augmented reality development teams to test and evaluate our projects from the human performance perspective. I focus on assessing how technology is going to impact first responders and their ability to consume information. The purpose of my role is to serve as the interface between engineering and psychology. By understanding how humans interact with technology, I can advise how best to implement that technology in the field.
What do you like about your job? What excites you?
KK: Working with the public safety community is rewarding because I can truly make a difference. Despite the challenges they face every day, first responders wake up and go to work ready for anything. That takes true bravery and courage.
At PSCR, I get to work with emerging technologies—shaping research and development that directly impacts the lives of first responders. I am passionate about public safety and technology, and it's an honor to work in a space that combines the two.
What do you find challenging about your role? 
KK: As a user experience researcher, you have to wear a lot of hats. It can be challenging to bring multiple disciplines together to solve a problem. I have adopted the term "antidisciplinary" from my graduate school professors, Dr. Joe Kider and Dr. Stephen Fiore, to better describe this research work. The projects at PSCR require a broad range of different methods and approaches; I am constantly learning. 
When working in public safety, you are typically not designing a product or tool that will be used in a pristine lab environment or by the general public. The stakes are high, and you do not have the ability to control every variable in the field. It's incredibly rewarding to see the tangible results, but it takes creativity and tenacity to do a good job. First responders work in dangerous and unpredictable environments. As such, we have to consider that in our approach to research and development. 
Who or what was inspirational or influential in your career choice?
KK: I first became interested in this field during my undergraduate studies, but I credit the Naval Research Enterprise Internship Program (NREIP) for solidifying my interest. The researchers I worked with under the Naval Postgraduate School fostered my research interests in crisis and disaster response, leading me to pursue my current career.
Can you speak about your academic experience?
KK: I'm a first-generation college student and the only member of both my immediate and extended family to earn a doctorate. I struggled a lot initially because it was difficult for me to find support and resources. I worked multiple jobs throughout my entire academic journey, and I worked full-time during my dissertation. In my opinion, this experience made me more resilient and grateful for the opportunities I have had. 
What accomplishment(s) are you most proud of in your career? What has been your favorite project to work on? 
KK: It's hard to pinpoint one specific accomplishment because ultimately my journey is still in progress. I will say that the opportunity to share the story of end-users (public safety professionals) is incredible. I am thankful to be able to talk to first responders across the nation and the world. 
At PSCR, my favorite project to work on has been the CHARIoT Challenge. PSCR is unique in that we offer prize challenges that can end with tangible results. With research and development, you do not always get to see a product or tool evolve from an initial concept to a fully functional prototype; this is one of my favorite things about working at PSCR. 
Were there women in your field that you encountered through your studies or past work experience that were inspiring to you?
KK: I am very grateful to have encountered some incredible researchers and emergency management leaders throughout my journey thus far. I sincerely have to thank Chief (Ret.) LaShun Nale-Stadom and Chief Lauraleigh Avery because both believed in my research and supported me from the beginning, even at the very early stages of my dissertation work. I am also appreciative of the opportunity to work with Michelle Cechowski through the Florida Hazardous Materials Symposium, which opened many doors for me. Dr. Christina Baxter is also an inspiration; her research and work are critical for first responders. These women truly embody what it means to be a leader in a male-dominated environment.
At PSCR, I am lucky to have the opportunity to work with strong female leaders including Ellen Ryan, Lisa Soucy, Sarah Hughes, Dr. Yee-Yin Chong, and Dr. Shaneé Dawkins. They inspire me every day to continue working on difficult problems.
How do you think we, as a society, can encourage more girls and women to enter into science careers?
KK: While there have been some great initiatives to extend the reach of STEM, we still have a long way to go. I think that bringing more awareness to opportunities is a necessary step. For example, there are so many internship programs available, but you have to know where to look and how to frame your goals to be a successful applicant. This is such a difficult process when you are first starting out, and not a reality for many female students due to long-standing obstacles. I think part of the problem is also embodied through the systemic barriers many female students face during the preparation and application process required for STEM careers. By reducing these barriers (economic, social, academic) and focusing on spreading awareness of these opportunities, we can facilitate a better environment for women and girls who are interested in pursuing STEM-related careers. 
What would you like to say to women and girls considering a career in science? 
KK: You will hear "no" thousands of times. You will encounter people who do not believe in your work or your vision. Keep going. Surround yourself with mentors and peers who will support you. And if you cannot find that person, be that person. 
I did not have a lot of strong science mentors growing up. I made it my mission to be a role model for others. Your journey will be collectively influenced by the people you collaborate with. Collaboration, not competition, is the key.