Local officials, businesses, and residents who want to make their communities more resilient to hazard events – natural or otherwise – now can get straightforward, action-oriented guidance from the National Institute of Standards and Technology (NIST).
A 50-page NIST Playbook identifies key actions that communities of any size can take to better position themselves to deal with potential hazards. It complements the two-volume NIST Community Resilience Planning Guide for Buildings and Physical Infrastructure Systems produced in 2015 that is used by communities and professionals in a variety of ways. The Guide recognizes that communities must prioritize their limited resources and that improving resilience is a process achieved over time.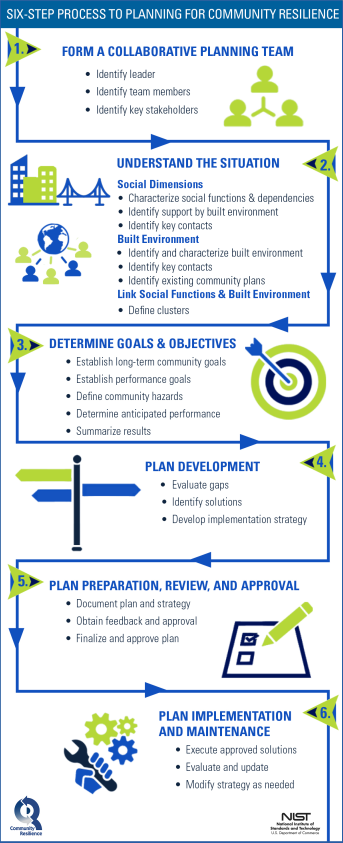 The companion Playbook helps communities follow the Guide's six-step process, which provides a structured yet flexible way to set community-scale goals, align priorities and resources, identify key stakeholders, and develop plans for recovery of community functions.
The Guide and Playbook can assist communities seeking insights into resilience planning issues and help identify the most effective resilience projects and align community plans with resilience goals when seeking funds to support resilience activities.
The Playbook can be used without expert assistance, but also offers ways to engage experts in the planning and implementation stages. It focuses on key actions to accomplish each of the Guide's six steps for resilience. The Playbook may also be useful for communities that wish to address only several of the steps – or simply to introduce the concept of the Guide's planning process and the interdependencies of buildings and physical infrastructure systems.
The Playbook has supplemental materials and incorporates the experience of several communities that have put the Guide to use. It also points to complementary materials developed by other federal agencies, non-profit organizations, and states and localities. Appropriate links to sections of the Guide and supporting materials are included in "Useful NIST Resources" at the end of each section.  
Links: