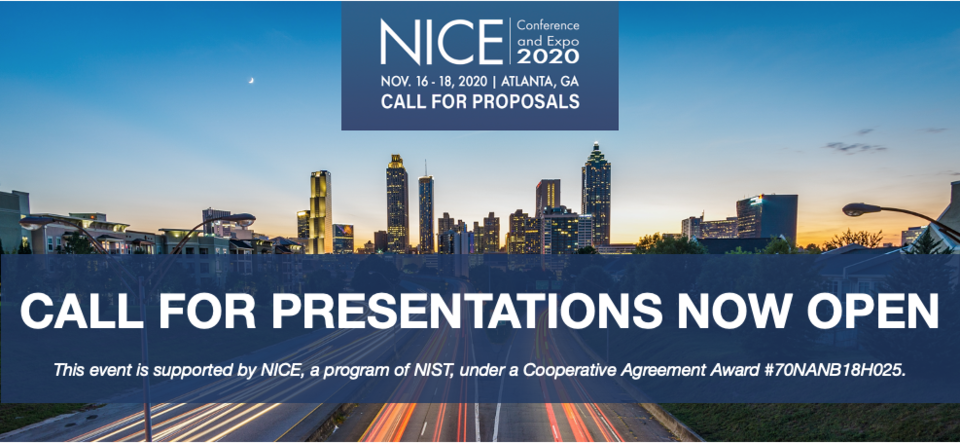 11th ANNUAL NICE CONFERENCE AND EXPO
Call for Presentations: Open March 24 – May 31, 2020 
The 2020 NICE Conference program committee is seeking timely, topical, and thought-provoking presentations in line with the conference theme, "New Decade, New Solutions: Meaningful Actions for an Evolving Cybersecurity Workforce".
The program committee encourages proposals from a diverse array of organizational and individual leaders with different perspectives, including employers and practitioners from the public and private sectors, non-profits, international bodies, educators at K-12 schools and institutions of higher education, research centers, and training and certification providers. Special consideration will be given to proposals that share best practices, multidisciplinary and cross-sector solutions, and success stories. Presentation proposals are due by May 31, 2020. 
Topics should attempt to align with the goals and objectives of the National Initiative for Cybersecurity Education (NICE) Strategic Plan and, where appropriate, consider uses of the NICE Cybersecurity Workforce Framework. Proposals will be evaluated and selected based on the quality of the written proposal, diversity of topics and presenters, and alignment with the conference theme and tracks.
Featured Tracks: 
Career Discovery
The Learning Ecosystem
The Talent Lifecycle
Effective Leadership 
Learn More and Submit a Proposal
---
This event is supported by the National Initiative for Cybersecurity Education (NICE), a program of the National Institute of Standards and Technology in the U.S. Department of Commerce, under a Cooperative Agreement (Award# 70NANB18H025). Learn more at niceconference.org.