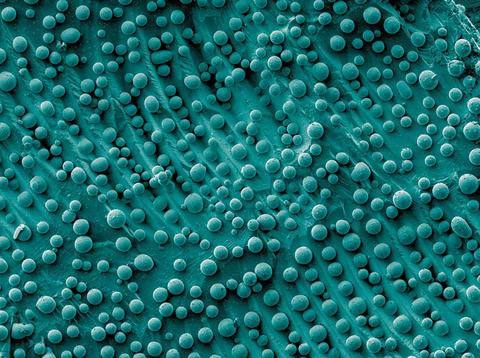 GAITHERSBURG, Md. — The U.S. Department of Commerce's National Institute of Standards and Technology (NIST) has awarded a total of nearly $4 million in grants to 19 small businesses to support innovative technology development. Awardees in 12 states will receive Phase I or Phase II funding through NIST's Small Business Innovation Research (SBIR) program. 
"American small companies play an important role in technology innovation," said Under Secretary of Commerce for Standards and Technology and NIST Director Walter G. Copan. "Funding through the SBIR program supports advances in key technology areas that can lead to improvements in health care, communications, manufacturing and more, and foster economic growth."
In February 2019, NIST issued a call for applications in seven topic areas, including advanced manufacturing and material measurements, cybersecurity and privacy, and health and biological systems measurements.
Phase I awardees receive up to $100,000 to establish the merit, feasibility and commercial potential of the proposed research and development. After completing their Phase I projects, awardees may compete for Phase II funding of up to $400,000 to continue their efforts. In Phase III, non-SBIR funds are used for technology commercialization. Seventy-five percent of this year's Phase I awardees are businesses younger than five years, and 75% have 10 or fewer employees.
Phase I Awardees 
Airflow Sciences Corp. (Livonia, Michigan) $100,000
Advanced Instrumentation for Non-Nulling Stack Velocity Testing — software and advanced instrumentation for data collection in potentially harsh environments for a NIST-developed 3D test method for smokestack emissions. 
Fullmoon Sensors Inc. (Stanford, California) $99,980
Continuous Monitoring of Natural Gas Infrastructure for Increased Community Resilience Using Voltammetric Sensors — a signal analysis algorithm for chip-scale sensors to detect carbon monoxide and methane molecules in air that allows data to be analyzed near where it's collected.
Graphene Waves LLC (Gaithersburg, Maryland) $100,000
Developing Commercial Quantum Resistance Standard Based on Epitaxial Graphene — a new quantum Hall resistance (QHR) standard for on-site electrical calibration, to replace the current standard, which requires liquid helium — an increasingly scarce and expensive resource.
Intact Solutions Inc. (Madison, Wisconsin) $100,000
Direct Performance Evaluation of Additive Manufacturing Process Plans — demonstration of the feasibility of performing accurate structural simulation directly from additive manufacturing plans to support validation, planning and optimization for additive manufacturing processes.
nVariate Inc. (Austin, Texas) $99,993
Gap-Free Model-Based Engineering for Manufacturing and Analysis: Digital Thread Without Translation — a three-stage process to provide a well-defined mathematical mapping between computer models of engineered objects and the systems that manufacture them, such as additive manufacturing and computer-aided manufacturing.
OmniVis LLC (West Lafayette, Indiana) $97,087
A Portable Vibrio Cholerae Concentrator for Sensitive Pathogen Detection in Water — an easy-to-use, inexpensive and portable bacterial concentrator to enable more sensitive detection of the cholera pathogen (Vibrio cholerae). 
Parman Tech LLC (Frederick, Maryland) $100,000
Laser Particle Separation — commercialization of a NIST-developed technology for sorting nanoparticles that uses the force of light to gently guide particles along different paths depending on the size and makeup of each particle.
QATCH Technologies LLC (Chapel Hill, North Carolina) $99,983
Microcapillary Quartz Sensors for Screening Injectability of High Concentration Protein Formulations — microcapillary quartz technology to measure the viscosity of a certain type of medication called high-concentration protein formulations to improve their delivery.
Robotic Materials Inc. (Boulder, Colorado) $100,000
Easy-to-Use, Autonomous Bin-Picking and Assembly Operations for the Manufacturing Industry — a graphical user interface for the Universal Robot E-Series that allows a user to label arbitrary 3D objects, identify assembly points and issue pick-up and assembly commands. 
SandBox Semiconductors Inc. (Austin, Texas) $99,975
Advanced Manufacturing and Material Measurements Software Tool Weave™ for the Acceleration and Automation of SEM Image Analysis in the Semiconductor Industry — a software tool for accelerating and automating scanning electron microscopy (SEM) image analysis for the semiconductor industry. 
Tourney Consulting Group LLC (Kalamazoo, Michigan) $99,345
Development of a Neutron-Based Nondestructive Test Method for Concrete Petrography and Chemical Analysis — a nondestructive method for determining the chemical and other properties of concrete, and to determine the specifications for the design of a facility for this process.
Xallent LLC (Ithaca, New York) $100,000
Nanomachine Device for Semiconductor Process Control Monitoring — nanomachine device that uses radio frequencies to identify defects and measure thin film material thickness, permittivity and conductivity.
Phase II Awardees
Advanced Silicon Group (Lincoln, Massachusetts) $400,000
Developing Silicon Nanowire Sensors to Measuring Host-Cell Proteins at a Biomanufacturing Line — a silicon nanowire biosensor for measuring the concentration of proteins for specific cell lines for biomanufacturing, which will be incorporated into a portable measurement system.
Alphacore Inc. (Tempe, Arizona) $400,000
IF Conversion System for High-Bandwidth Multiplexed Sensors Arrays — optimized design and performance of a sensor system developed in Phase I and software to allow for flexible and simple user interfaces as part of a cryogenic detector readout.
Applied NanoFluorescence (Houston, Texas) $399,976
Multimode Chiroptical Spectrometer for Nanoparticle Characterization — a new scientific instrument to analyze complex nanoparticle samples and their coatings to guide research, product development, quality control and commercial applications. 
CyberPoint International (Baltimore, Maryland) $368,135
TheSieve — a product that can automatically collect and analyze evidence of malicious code events or system misuse in forensic investigations of personal computers, laptops and servers, leveraging the NIST National Software Reference   Library and machine learning and artificial intelligent algorithms.
H3D Inc. (Ann Arbor, Michigan) $400,000
Dual Plane 3D Compton Scattering Imager With Pixelated CZT Detectors for 1-10MeV Gamma Ray — a new application specific integrated circuit (ASIC) to offer better timing resolution and higher count rates of gamma rays. It will serve as a testbed for high-energy gamma imaging studies.
InfoBeyond Technology LLC (Louisville, Kentucky) $399,998
CSAT: A User-Friendly Efficient NIST-Spec Information System Development Guideline Tool —a user‐friendly, efficient, reliable and generic Cloud Security Architecture Tool (CSAT) to help federal agencies implement integrated, organization‐wide programs to manage information security risk.
Nikira Labs Inc. (Mountain View, California) $299,162
Compact Raman Fiber Optic Probe With Inline Spectral Filtering — a compact Raman fiber optic probe that can improve measurements for studies in vivo and other difficult to access areas, including studies of live tissue.
NIST promotes U.S. innovation and industrial competitiveness by advancing measurement science, standards and technology in ways that enhance economic security and improve our quality of life. NIST is a nonregulatory agency of the U.S. Department of Commerce. To learn more about NIST, visit www.nist.gov.