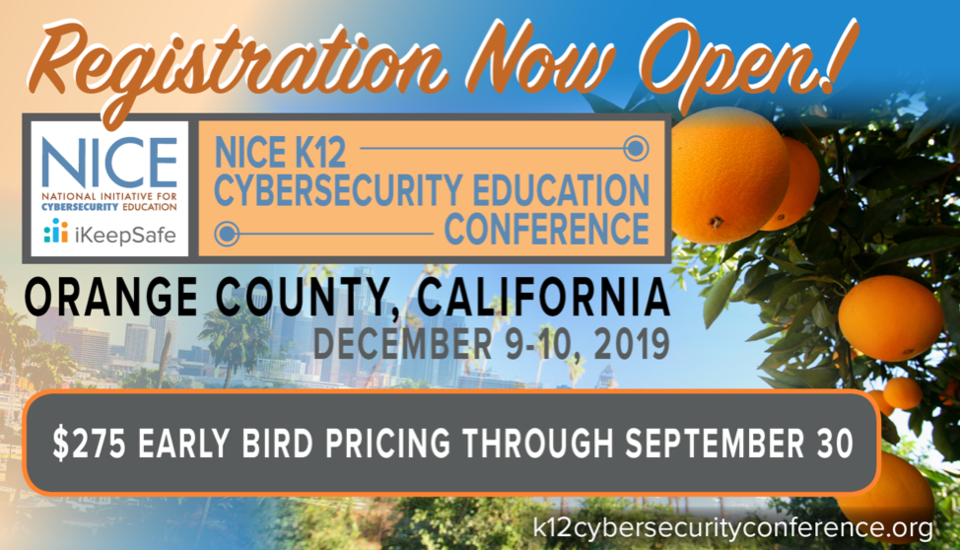 We're thrilled to announce that Early Bird Registration pricing is now open for the 2019 NICE K12 Cybersecurity Education Conference.
The 2019 NICE K12 Cybersecurity Education Conference takes place December 9-10, 2019 at the Hyatt Regency Orange County in Garden Grove, California. Pre-Conference Workshops will take place on December 7-8.
This year's theme is: INNOVATION, VISION, IMAGINATION: Harnessing the talent of today to build the cybersecurity workforce of the future.
#NICEK12 2019 will be jam-packed with presentations, panels, break-out sessions, and hands-on activities covering five tracks:
Increasing Cybersecurity Career Awareness
Infusing Cybersecurity Across the Educational Portfolio
Integrating Innovative Cybersecurity Educational Approaches
Designing Cybersecurity Academic & Career Pathways
Promoting Cyber Awareness
---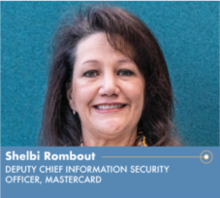 #NICEK12 2019 features several impactful keynote speakers including Shelbi Rombout. As the Deputy Chief Information Security Officer for Mastercard, Shelbi is responsible for the corporate security prevention efforts, including vulnerability management, risk management, and identity and access management. She is an information technology and security professional with more than 20 years of experience in leadership roles within information security, risk management, technology project management and networking.
Join your fellow educators, administrators, school counselors, students, and representatives from government and industry at what is sure to be an AWESOME event. The $275 Early Bird Registration pricing lasts only until SEPTEMBER 30, so get your tickets now.
See you in California at #NICEK12!!
---
CELEBRATING OUR 5th YEAR 


OF THE NICE K12 CYBERSECURITY
EDUCATION CONFERENCE
---
Learn more at k12cybersecurityconference.org
Follow the conference on social media with #NICEK12
For registration questions, sponsorship and exhibitor inquiries contact conference [at] ikeepsafe.org (conference[at]ikeepsafe[dot]org)
This event is hosted by the iKeepSafe Coalition and supported by the National Initiative for Cybersecurity Education (NICE), a program of the National Institute of Standards and Technology in the U.S. Department of Commerce, under financial assistance award #60NANB16D302.