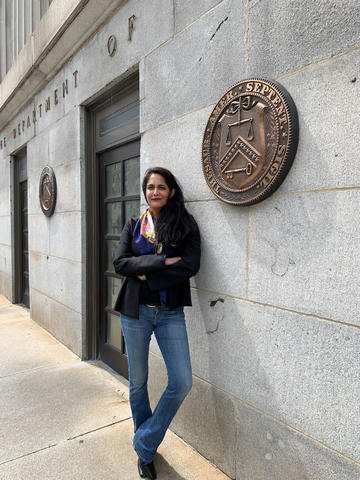 This year's National Institute of Standards and Technology (NIST) Presidential Innovation Fellow (PIF) is taking on a major role in bridging the gap between private sector venture capital and federal laboratories.
Sarayu Srinivasan began her 12-month "tour-of-duty" here with the Technology Partnerships Office (TPO) at the end of February and will lead the development of high-level engagement between government and industry to increase commercialization of federally-funded Research and Development.
The PIF program matches diversely talented innovators from industry, nonprofits and academia with the finest civil-servants working at the highest levels of federal government. Together, these teams tackle the nation's most significant challenges in ways that will quickly achieve results with a lasting impact.
Srinivasan's role was specifically created to help accomplish the second strategy outlined in the Return on Investment (ROI) Initiative Green Paper, which focuses on increasing engagement with private sector technology development experts and investors. The initiative's overall goal is to unleash American innovation into the Nation's economy, advancing the Lab-to-Market cross-agency priority (CAP) that falls in line with the President's Management Agenda (PMA).
Her vast knowledge as an investor, founder and operator in the private sector made her the perfect candidate to push an initiative that will ultimately improve U.S. performance in the global innovation marketplace.
Prior to serving as a PIF, Srinivasan was the founder and CEO of KAARGO, a mission-driven consumer transport and shipping marketplace connecting drivers with other consumer shipping to the same destination, backed by the Chairmen/CEOs of Intel and Loews. Before Kaargo, she was a venture capitalist most recently with Intel Capital where she invested in high-growth technology companies across sectors and launched Intel's first $250 million emerging markets fund in India.
Earlier in her career, Srinivasan acted as a senior executive and operator at multiple software and services organizations and was also a brand manager at Pepsi where she oversaw two $300 million brands.
"She has considerable experience in the venture capital and entrepreneurial fields and a strong drive to give back to our country through public service," said Chuck Na, an interagency policy specialist with NIST's TPO. "We were impressed with her passion in wanting to help NIST in increasing private sector investor engagement with Federal laboratories in support of the CAP goal strategy."
Srinivasan is just one of 17 PIFs selected this year to collaborate with several federal agencies in varying capacities that complement their individual expertise. In turn, the fellows gain first-hand knowledge of governmental processes and procedures.
"I'm incredibly excited and humbled to be here. There is a huge amount of respect for this place, particularly in the scientific and technical community," said Srinivasan. "Even if you are not familiar with NIST directly, you are probably using something that can be traced back to NIST in some way. The innovations that have emerged from NIST affect nearly every part of our lives."
Srinivasan and NIST will work alongside the White House Office of Science and Technology Policy, National Science & Technology Council Lab-to-Market Subcommittee, Lab-to-Market Private Sector Engagement Team and many interagency technology transfer leaders.
Click here for more information regarding the ROI Initiative Green Paper.