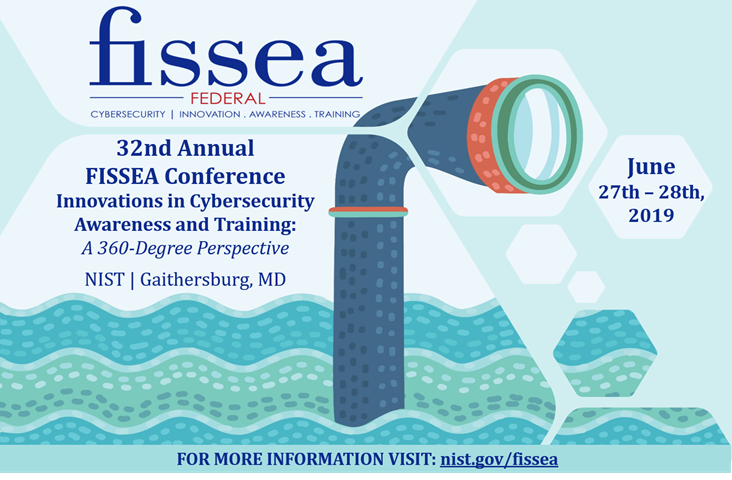 32nd Annual FISSEA Conference Agenda
We are pleased to share with you our 2019 FISSEA Conference Agenda.  
Our Keynote speakers:
Shayla Treadwell, Director of Cybersecurity – Organizational Psychologist, ECS Federal where she supports the United States Postal Service.  She is an expert in various adult learning methodologies that can lead to positive behavioral modification through the lens of business development and technology.
 
Steven Hernandez, Chief Information Security Officer and Director of Information Assurance Services, U.S. Department of Education, and Co-Chair of Federal CISO Council.  Steven also serves as the government chair of the ACT-IAC Cybersecurity Community of Interest.
There will also be Featured Presentations by Rosario Mendez from the Division of Consumer and Business Education for the Federal Trade Commission and Tiffany Schoenike who is the Chief Operating Officer for the National Cyber Security Alliance; as well as all of our other excellent speakers from industry, academia and government.  We are excited to takeaway knowledge from each speaker.  
Event page and registration: https://www.nist.gov/news-events/events/2019/06/fissea-2019 (registration ends on 6/20/2019 at 11:59 PM EDT)
Cost: $138.00 (fee includes continental breakfast and a PM coffee break both days).
You, as part of our cyber workforce, are especially important to addressing emerging threats in our connected world.  As the threat landscape changes, our cybersecurity practices, methodologies, and processes must continuously evolve and adapt. It takes a coordinated effort to help ensure the security of our digital economy.
Other related items:
 This will be another great year of exciting presentations, networking, and fun! We look forward to seeing each of you at the conference!