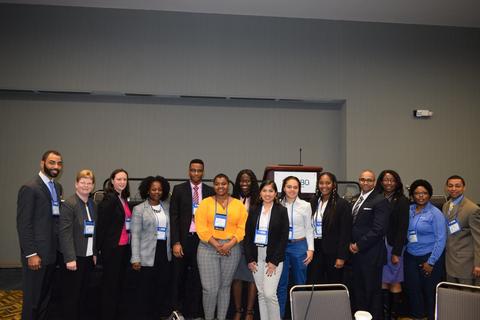 The National Institute for Innovation in Manufacturing Biopharmaceuticals (NIIMBL) in partnership with the Healthcare Innovation Special Interest Group (HISIG) of the National Society of Black Engineers (NSBE) are pleased to announce the selection of seven students for the inaugural NIIMBL eXperience program.
The following students will visit biopharmaceutical companies and federal agencies this June for the NIIMBL eXperience: Sadie Doublin, a Biomedical Engineering major from Florida A&M/Florida State University; Aliyah Ford and Ameenah Jackson, Biology majors from Delaware State University; Siani Perez-Harrison, a Biology major from Lincoln University; Luz Ruiz Ceronio, a Biology major from Gustavus Adolphus College; Lauren Sells, a Chemical Engineering major from Howard University; and Uzochi Uwazuruonye-Anyanwu, a Bioengineering major from University of Massachusetts, Dartmouth.
Host sites include Amgen, AstraZeneca, Merck & Co., RoosterBio, and the National Institute of Standards and Technology.
The NIIMBL eXperience is designed to provide underrepresented minority students (URMs) from Historically Black Colleges and Universities and from NIIMBL member academic institutions a glimpse into the exciting field of biopharmaceuticals. During the week of June 10-14, students completing their freshman year will travel to and interact with large and small biopharmaceutical companies and federal agencies to gain insights into the diverse career options. Students will learn about each organization, network with current employees, tour facilities, and carry out simulated work activities. They will also appreciate the role that federal agencies play in delivering innovative treatments to meet unmet medical needs.
This program gives students an extraordinary level of access to biopharmaceutical industry stakeholders and enables them to build lasting connections with actionable steps toward in-demand and rewarding biopharmaceutical careers.
"We would like to congratulate this group of talented students and express our sincere thanks to NSBE and the host organizations who are participating in the first NIIMBL eXperience. We are looking forward to an exciting week where students will learn about the many career opportunities in the biopharmaceutical industry." said Kelvin Lee, NIIMBL Institute Director.
"The National Society of Black Engineers (NSBE), in its mission to increase the number of Black engineers, is happy to work with great organizations like NIIMBL to advance biopharmaceutical manufacturing innovation and workforce development. NSBE believes that its members are pivotal to the economic success on industry in the United States and around the world. We hope to grow our relationship with NIIMBL as they drive U.S. leadership in advanced manufacturing." said Anthony Murphy, National Professionals Chair, National Society of Black Engineers.
About NIIMBL
NIIMBL is a public-private partnership with the goal of advancing innovation in biopharmaceutical manufacturing. NIIMBL is part of Manufacturing USA®, a network of 14 manufacturing institutes across the country that brings together industry, academia, and the public sector to propel promising research and technology developments, accelerate new products to market, and train tomorrow's workforce in order to secure America's future. NIIMBL is funded through a cooperative agreement with the National Institute of Standards and Technology (NIST) in the U.S. Department of Commerce, and leverages additional support from industry, academic institutions, non-profit organizations, and several state governments. The NIIMBL mission is to accelerate biopharmaceutical innovation, support the development of standards that enable more efficient and rapid manufacturing capabilities, and educate and train a world-leading biopharmaceutical manufacturing workforce, fundamentally advancing U.S. competitiveness in this industry.
Follow NIIMBL on social media.
 Twitter:             www.twitter.com/niimbl
 LinkedIn:           https://www.linkedin.com/company/niimbl-the-national-institute-for-innovation-in-manufacturing-biopharmaceuticals/
About NSBE
With more than 500 chapters and more than 16,000 active members in the U.S. and abroad, the National Society of Black Engineers (NSBE) is one of the largest student-governed organizations based in the United States. NSBE, founded in 1975, supports and promotes the aspirations of collegiate and pre-collegiate students and technical professionals in engineering and technology. NSBE's mission is "to increase the number of culturally responsible black engineers who excel academically, succeed professionally and positively impact the community." For more information, visit www.nsbe.org
Sign up to follow NSBE on social media.
 Twitter:           http://www.twitter.com/NSBE
 Facebook:      facebook.com/NSBE1975
 Instagram:      instagram.com/NSBE
 LinkedIn:        https://www.linkedin.com/company/national-society-of-black-engineers
 YouTube:       youtube.com/user/NSBETV