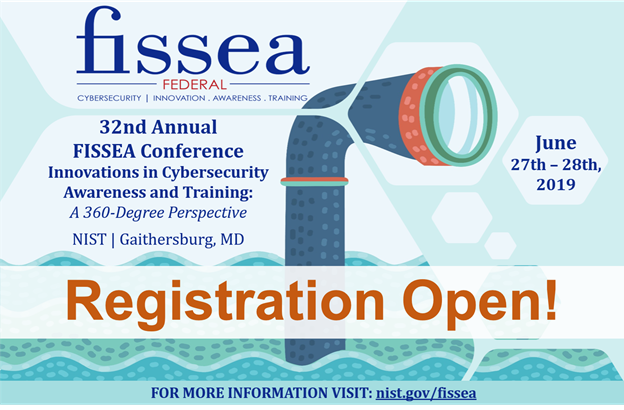 We invite you to join us for the 32nd annual FISSEA conference on June 27-28, 2019! This year's theme is Innovations in Cybersecurity Awareness and Training: A 360-Degree Perspective—and we plan to bring together visionaries, experts, and beginners from industry, academia, and government to discuss and share leading practices on improving cybersecurity through awareness, training, and education. The two-day conference will be held at the National Institute of Standards and Technology (NIST) in Gaithersburg, MD. 
Event page and registration: (registration ends on 6/20/2019 at 11:59 PM EDT)
Cost: $138.00 (fee includes continental breakfast and a PM coffee break both days).
You, as part of our cyber workforce, are especially important to addressing emerging threats in our connected world.  As the threat landscape changes, our cybersecurity practices, methodologies, and processes must continuously evolve and adapt. It takes a coordinated effort to help ensure the security of our digital economy.
Other related items:
This will be another great year of exciting presentations, networking, and fun! We look forward to seeing each of you at the conference!