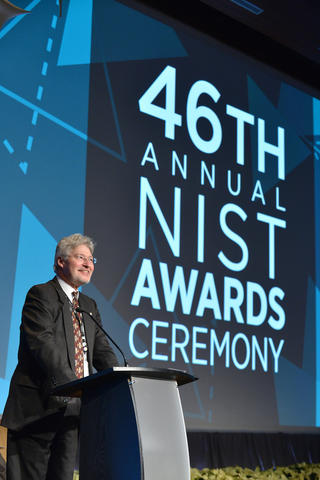 GAITHERSBURG, Md.—The U.S. Department of Commerce's National Institute of Standards and Technology (NIST) last week recognized more than 190 staff members for their service to the country.  
Under Secretary of Commerce for Standards and Technology and NIST Director Walter G. Copan said, "I'm so impressed by the remarkable achievements recognized through these awards. Our staff members' creativity, passion and persistence have produced innovative results with lasting value for NIST and the nation."  
The award-winners have made advances in a wide variety of fields, with notable achievements in measurement research related to quantum computing, unmanned vehicles, cell biology, medical imaging, engineering of energy-efficient buildings, and the role of vitamin D in human health, among other topics. The list of awards is reflective of the wide range of activities that NIST oversees as the nation's measurement lab.  
The ceremony was held Dec. 12, 2018, concurrently at NIST's main campuses in Gaithersburg, Maryland, and Boulder, Colorado, and was broadcast to NIST staff at the Hollings Marine Laboratory in Charleston, South Carolina. The ceremony also celebrated NIST staff members who received the Department of Commerce Gold and Silver awards in September. 
Details about the awards and winners can be found on the NIST website (click on the photos for the award citations).