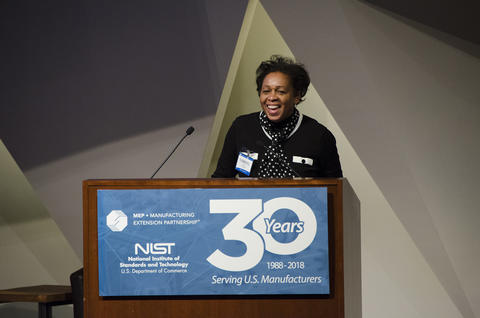 On November 28, NIST MEP held the MEP National Network 30th Anniversary Recognition Commemoration at the National Academy of Sciences Building in Washington, DC. The event lauded 30 years of MEP achievements and featured remarks and discussion among leaders from NIST, MEP Centers and their client small and medium-sized manufacturers (SMMs), industry and important stakeholders about the critical role the MEP Program has played in advancing U.S. manufacturing over three decades. Sessions and speakers included the following below.
Welcome remarks from:
Carroll Thomas, Director, MEP, NIST

Dr. Phillip Singerman, Associate Director, Innovation & Industry Services, NIST

Dr. James K. Olthoff, Acting Associate Director, Laboratory Programs, NIST

A Video from Dr. Walt Copan, Under Secretary of Commerce, Standards and Technology and Director, NIST

A Letter from Ernest "Fritz" Hollings, Former Senator from South Carolina
Notable public and private partnership stakeholders, including:
Kevin Carr, Former MEP Director and Chief Executive Officer, FloridaMakes

Dr. Ron Jarmin, Deputy Director, and Performing the Non-Exclusive Functions and Duties of the Director, U.S. Census Bureau

David Langdon, Senior Policy Advisor, Office of the Secretary, U.S. Department of Commerce

Leo Reddy, Chairman and CEO, Manufacturing Skill Standards Council

Bill Bonvillian, Lecturer, Massachusetts Institute of Technology

 
Influential MEP Center and partner representatives, including:
Joe Houldin, Delaware Valley Industrial Resource Center Founder and Director, National Manufacturing Initiatives

Jacques Koppel, Former MEP Director at Minnesota Technology, Inc.and President, The Koppel Group

Carolyn Lee, Executive Director, The Manufacturing Institute, National Association of Manufacturers

Tom Mahoney, Former MEP Director at West Virginia MEP and Associate Director, MForesight

Scott Paul, President, Alliance for American Manufacturing
A manufacturing roundtable featuring:
Mike Garvey, President and CEO, M-7 Technologies, NIST Visiting Committee on Advanced Technology

Dr. Jaime Camelio, Chief Technology Officer, Commonwealth Center for Advanced Manufacturing

Christa Glassburn, Chief Operating Officer, The PBE Group

Wayne Smith, Marketing and Product Development Director, DanChem Technologies, Inc.
The event's final session included remarks about the next 30 years from Carrie Hines, President and CEO of the American Small Manufacturers Coalition and Foundation for Manufacturing Excellence as well as closing remarks from Carroll Thomas. The event also included three videos featuring MEP Center manufacturing clients, who told their story as part of the Heroes of American Manufacturing video series. Approximately 100 people attended the event, including representatives from numerous MEP Centers, and NIST MEP wishes to thank everyone that participated for making it a success!