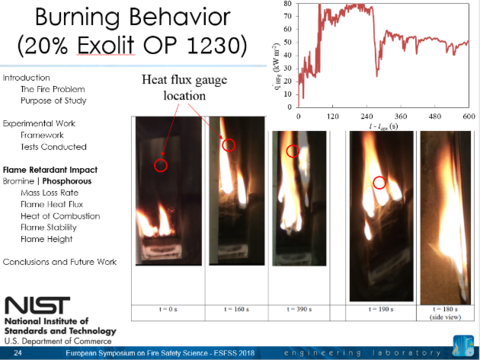 Dr. Isaac Leventon recently returned from Nancy, France, where he attended the 2018 European Symposium on Fire Safety Science (ESFSS 2018) to deliver a lecture titled, "The Impact of Bromine- and Phosphorous-Based Flame Retardants on Flame Stability and Heat Feedback from Laminar Wall Flames" and to participate in the IAFSS workshop: Agenda 2030 for a Fire Safe World.
Dr. Leventon's presentation focused on experimental measurement of the controlling mechanisms of flame spread over a combustible solid and on the impact of two flame retardants (known to act, primarily, through two distinct mechanisms) on material burning behavior and fire growth. This presentation also highlighted the current capabilities of measurement apparatus in use or in development by the NIST Flammability Reduction Group and the direction of the Group's ongoing and future research.
This work supports the Flammability Reduction Technologies Project and the IAFSS Working Group on Measurement and Computation of Fire Phenomena (MaCFP). MaCFP is a coordinated, collaborative effort between leading researchers (experimentalists and modelers) in the global fire research community to make significant and systematic progress in fire modeling, based on a fundamental understanding of fire phenomena.
At the Agenda 2030 for a Fire Safe World workshop, participants collaborated with a focus on shaping the direction of future research in fire safety science and engineering and influencing the funding entities who support such research.  The workshop formed a new working group that will produce a position paper highlighting key challenges faced by the field (large scale, societal and global drivers of fire risk), key areas where further research (applied and fundamental), and the benefits of this work (i.e. the impact and value of funding fire research).
More information about the 2018 European Symposium on Fire Safety Science and the Agenda 2030 for a Fire Safe World workshop is available at: 
http://www.esfss2018.com/  
https://iafss.org/2018/06/26/iafss-workshop-agenda-2030-for-a-fire-safe-world/