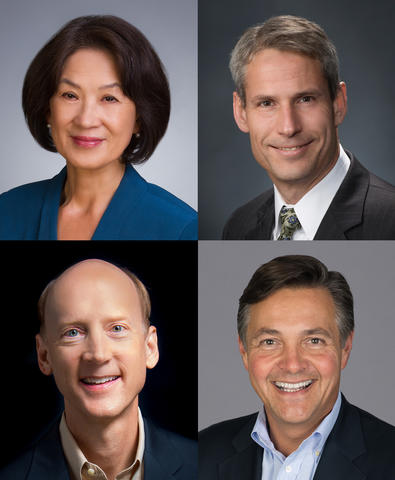 The National Institute of Standards and Technology (NIST) welcomes four new members to its Visiting Committee on Advanced Technology (VCAT). This private-sector advisory group reviews and recommends general policy for NIST, including its organization, budget and programs.
Jay Alexander of Keysight Technologies, George Fischer of Verizon Enterprise Solutions, Dana "Keoki" Jackson of Lockheed Martin, and Katharine Ku of Stanford University were appointed to serve three-year terms by Under Secretary of Commerce for Standards and Technology and NIST Director Walter Copan on May 22, 2018.
Jay Alexander is senior vice president and chief technology officer of Keysight Technologies, an independent public company that was created from the electronic measurement business of Agilent Technologies in 2014. He leads Keysight's central planning and technology development teams and manages the company's development of new technologies and platform offerings. Alexander previously held numerous leadership positions within Agilent, including his most recent role as vice president and general manager of the Oscilloscope and Protocol Division. He joined Hewlett-Packard, which spun off Agilent, in 1986.
Alexander earned a bachelor's degree in electrical engineering from Northwestern University and a master's degree in computer science from the University of Colorado Boulder. A licensed professional engineer and senior member of IEEE, he has been awarded 24 U.S. patents.
George Fischer is senior vice president and group president of Verizon Enterprise Solutions, responsible for delivering business solutions to Verizon's global enterprise clients in health care and insurance, financial services, technology, manufacturing and automotive, transportation and distribution, retail, energy and utilities, and the public sector. He leads a team driving sales, operations and marketing focused on strategic solutions in networking, managed services, business communications, security and professional services.
Most recently, Fischer served as senior vice president of global sales for Verizon Enterprise Services, leading 2,100 sales professionals in more than 50 countries. He received his bachelor's degree in information systems and management from Syracuse University. Fischer sits on several corporate boards and is a region trustee for the Boys and Girls Clubs of America, championing digital literacy and science, technology, engineering and math instruction.
Dana "Keoki" Jackson serves as chief technology officer at Lockheed Martin, where he is responsible for developing advanced technology strategy and is the company's primary liaison to the international science and technology community. He has also served as vice president for Navigation Systems and program manager for Global Positioning System III at Lockheed Martin Space.
Before joining Lockheed Martin, Jackson was a NASA research fellow at the Massachusetts Institute of Technology (MIT), studying human adaptation to the space environment. He received bachelor's, master's and doctoral degrees in aeronautics and astronautics from MIT, and completed the Stanford Executive Program at the Stanford Graduate School of Business. Currently, Jackson serves on the American Institute for Aeronautics and Astronautics Foundation Board of Trustees, the Georgia Institute of Technology Advisory Board, the Board of Visitors for the University of Maryland A. James Clark School of Engineering, and the Visiting Committee for the MIT Department of Aeronautics and Astronautics.
Katharine Ku is the executive director, emerita of Stanford's Office of Technology Licensing (OTL), which transfers early-stage university innovations developed from federally funded research to industry via licensing. During her 27 years at the helm, Stanford's OTL has generated $1.8 billion and licensed high-impact university inventions, including public key encryption, DNA cloning, data visualization technology and more, to companies including Google and Tableau. She has been closely involved with Stanford's arrangements with the Parker Institute for Cancer Immunotherapy, the Chan Zuckerberg Biohub, the Semiconductor Research Corporation and the Howard Hughes Medical Institute.
Ku studied chemical engineering and has a bachelor's degree from Cornell University and a master's degree from Washington University in St. Louis. She is also a registered patent agent. Ku is known for her role in the development of the university technology transfer profession, particularly in the formative years after Congress passed the University and Small Business Patent Procedures Act of 1980—more popularly known as the Bayh-Dole Act. Ku is currently a member of the National Center for Advancing Translational Sciences (NCATS) Advisory Council and the Biomedical Engineering Society's Industry Advisory Board.
The United States Congress established the VCAT in 1988 to review and make recommendations on NIST's policies, budget, programs and organization. The new members will join the VCAT at its meeting on June 5 and 6, 2018, in Gaithersburg, Maryland. The committee's final meeting of 2018 will be held Oct. 16 and 17 in Boulder, Colorado. For more information about the committee and its work, visit the VCAT section of the NIST website.