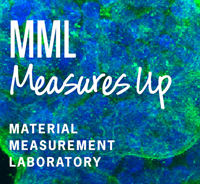 NIST accelerates the transformation of laboratory discoveries into new therapies and commercial products by assuring the quality of measurements in biomedical research.

Researchers from NIST's Material Measurement Lab patented a method for authenticating the mouse cell lines used for biomedical research. The method enables better use of taxpayers' investment in science by helping to provide assurance that cell lines are what the researchers think they are.
Cells from specially bred or genetically engineered mice are often used for biomedical research. Sometimes, these cells are not as labeled. While the level of misidentification in mouse cell lines is currently unknown, studies have shown that human cell lines used in research are misidentified or contaminated about 18 percent of the time. If researchers aren't sure of the characteristics of the cells they're experimenting with, then the most promising results may be worthless: The conditions of the experiment cannot be replicated to validate the original study or develop a new treatment. An estimated $28 billion per year is wasted on experiments that can't be reproduced. Biomedical researchers in industry and academia asked NIST to help.

Our patent describes genetic markers that allow mouse cell lines to be distinguished from one another. For the first time, we have the tools to determine identity in mouse cell lines, and will soon learn how frequently these cells are misidentified. In collaboration with the ATCC, NIST leads a consortium of organizations that will validate these markers and collect data on a large number of cell lines. This will result in a documentary standard and a bank of genetic markers researchers can use to check their cell lines against the correct gene sequences. To encourage the development of a commercial kit for cell line authentication, the new method can be licensed for research and non-exclusive commercial purposes through NIST's Technology Partnerships Office.
1st validated method for the authentication of mouse cell lines
13 organizations have obtained research licenses for patent #9,556,482, "Mouse cell line authentication"