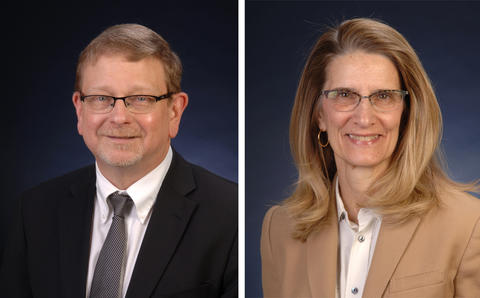 The National Institute of Standards and Technology's Visiting Committee on Advanced Technology (VCAT) welcomes new members Gail Folena-Wasserman, head of Biopharmaceutical Development at MedImmune, and David Vasko, director of Advanced Technology, Strategic Development, Rockwell Automation. Acting Under Secretary of Commerce for Standards and Technology and Acting NIST Director Kent Rochford appointed the two for three-year terms.
At MedImmune, Folena-Wasserman has oversight of all analytical, process, formulation and drug product development, including delivery and devices, as well as clinical manufacturing and quality control for clinical products. She is responsible for research support, early and late-stage development, clinical manufacturing phases I through III, technology transfer and life cycle management.
She joined MedImmune in 1991 as director, development, and was promoted to vice president, development, in October 1995. In 2010, she was appointed head of vaccines and biologics development. Folena-Wasserman established the Biopharmaceutical Development function and Clinical Manufacturing Capabilities at MedImmune. Following the MedImmune acquisition by AstraZeneca, she led the transition from three development divisions to the current biopharmaceutical development organization.
Prior to joining the company, Folena-Wasserman spent nine years in natural products isolation and biopharmaceutical process development at SmithKline Beecham Pharmaceuticals. She holds four patents and was selected as one of PharmaVOICE's 100 Most Inspiring People in 2011.
Folena-Wasserman holds a bachelor's degree in biology and chemistry from Montclair State University in New Jersey and received a master's degree in biochemistry and a doctorate in chemistry from The Pennsylvania State University.
At Rockwell Automation, Vasko is responsible for applied R&D and Global Product Standards and Regulations. He is charged with developing and managing technology to enable the future generation of the company's industrial automation products.
Vasko previously managed the Distributed Control Research lab, where agent-based control systems were first developed and successfully deployed in industrial applications. He also managed the Architecture Development group and contributed to the development of the ControlLogix Architecture and Common Industrial Communication Protocol (IEC 61158), which is currently used in more than 15 million industrial devices. He led the team that developed the CIP Safety communication protocol (IEC 61784-3) and in 2005 was recognized as Rockwell Automation's Engineer of the Year.
Vasko is on the boards of the Smart Manufacturing Leadership Coalition, the IoT Talent Consortium and the Milwaukee Institute. He is a member of the Wisconsin Technical Council and the U.S. National Committee council, and serves on technical advisory groups in the U.S. National Committee for industrial control. He also serves in leadership positions within the International Electrotechnical Commission (IEC) and is a contributing member of the IEC Strategic Group focused on Smart Manufacturing and Industry 4.0.
Vasko has authored 20 papers, contributed to three books and holds more than 40 U.S. patents in industrial communications, distributed control, agent technology and functional safety.
The VCAT was established by Congress in 1988 to review and make recommendations on NIST's policies, organization, budget and programs. The next VCAT meeting will be held via webinar on March 16, 2017. Visit the VCAT website for more information on the committee.